India staged a magnificent recovery to defeat England 4-3 and take the top spot in Pool B of the men's hockey tournament at the Commonwealth Games on Wednesday.
England finished second in the group.
With both teams having already qualified for the semi-finals, India needed to win the match to emerge on top of the pool while England required just a draw because of a superior goal difference. And the Indians pulled it off with a brilliant fightback despite a poor first and second quarter.
In the semi-finals, India will play New Zealand, while England take on Australia.
India had two good chances within five minutes from the start to go ahead but Lalit Kumar and Dilpreet Singh frittered them away when ideally placed.
There after it was all England in the first quarter. Had goalkeeper P Sreejesh not brought off two brilliant saves from penalty-corners India would have been at least two goals down.
England deservedly went ahead in the second quarter (17th minute) David Condon sounding the board with a reverse hit after latching on to a cross from the right flank following a quick counter attack.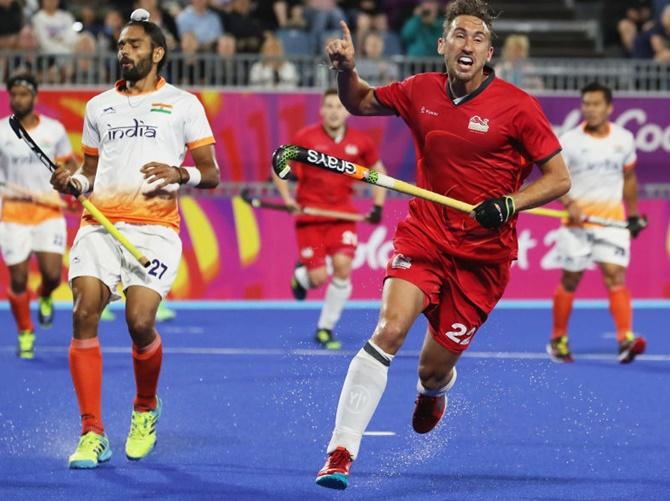 England could have doubled the lead a minute later, but Sreejesh again brought off a fine save from a penalty-corner.
The English held more possession and repeatedly attacked but the Indian defence did well to go into half-time just a goal in arrears.
India forced their first penalty early in the third quarter but Harmanpreet sent the ball wide over.
They continued to attack and were rewarded for their efforts in the 33rd minute when Mandeep Singh capitalised on a defensive lapse and passed back for Manpreet Singh, who flicked home from the top of the circle.
India continued to press forward but without further success.
Three minutes into the fourth quarter India took the lead through Rupinder Pal Singh, who flicked hard and true from their second penalty-corner.
England went for a referral, but without success and the goal stood.
But India's lead lasted a few seconds as it was the English who forced a penalty-corner and Liam Ansell scored to make it 2-2.
Another penalty-corner soon after appeared to have sealed India's fate as San Ward sounded (3-2) the board.
The Indians pressed hard for another goal and scored through Varun Kumar with two minutes remaining.
India withdrew Sreejesh from goal for an additional forward and it paid off as Manpreet Singh scored to make it 4-3.