It was a promise made one year ago, after he struck gold at the Commonwealth Games but boxer Manoj Kumar, who is now also assured of a berth in next year's London Olympics, is still waiting to be promoted in Indian Railways.
Manoj is among the four Indian boxers, others being L Devendro Singh (49kg), Jai Bhagwan (60kg) and Vikas Krishan (69kg), who booked their Olympic berths at the recently-concluded World Championships by reaching the quarterfinals.
Among them, Vikas went on to clinch a bronze medal.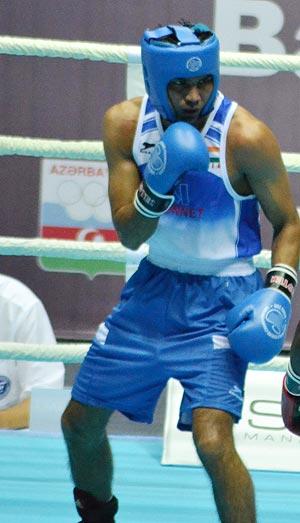 Back in the country today, Manoj (64kg) is now gearing up for the National Championships next month as a medal there would ensure his promotion from a Travel Ticket Examiner (TTE) to the Chief Ticket Examiner, something that was promised to him after the CWG gold.
"It was announced by the then Railway Minister Mamata Banerjee during a felicitation function but nothing has happened so far. I will be competing in the National Championships next month because three medals at a stretch there would lead to a promotion," Manoj, who has been a
national champion in the past and fetched a bronze in the last edition, said.
"Obviously, we all know it's a slow process but hopefully, after a medal at National Championships, I would be promoted," added the boxer, who joined Railways in 2008.
Gearing up for the Olympics, Manoj said he would work out more to gain strength.
"In my quarterfinal bout, I was tired after fighting rather hard in the pre-quarters. There was lot of pressure as well. So from now on, I will work on my endurance and my punches also. I have to instill more power and precision," he said.