A silver nonetheless was a remarkable result for the Indian team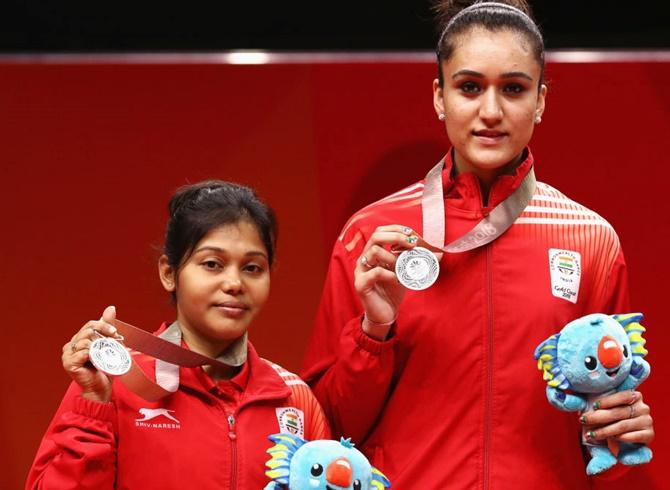 Manika Batra and Mouma Das fought hard before going down against defending champions Feng Tianwei and Yu Mengyu to settle for a silver medal in the women's doubles, a first ever for India in the Commonwealth Games.
Batra, who had led India to a historic triumph in team championship, could not do the same alongside Das today. Tianwei and Mengyu came well prepared to counter Batra's variations with the pimpled rubber and cruised to a 11-5, 11-4, 11-5 victory.
A silver nonetheless was a remarkable result for the Indian team which could not make the final in the past four Games.
Prior to the final, India's best showing in women's doubles came back in 2010 when Das and Poloumi Ghatak had secured bronze.
In the bronze medal play-off, the Malaysian combine of Ying Ho and Karen Lyne got the better of India's Sutirtha Mukherjee and Pooja Sahasrabudhe 15-13, 11-7, 8-11, 11-7.
It has been a stellar run for Indian paddlers in the quadrennial event as the men's teamwon the gold for the second time and their women counterpart clinched the yellow metal for the first time in Games' history.
The Indians are also in medal contention in the men's and mixed double's.
Sharath Kamal and G Sathiyan are already assured of a medal, having reached the men's doubles final.
The Indian pair came from behind to beat Yew En Koen Pang and Shao Feng Ethan Poh 7-11, 11-5, 11-1, 11-3. They will face England's Paul Drinkhall and Liam Pitchford in the finals.
Harmeet Desai and Sanil Shetty lost their semifinal and will play for bronze tomorrow.
The pairings of Sharath and Das, and Sathiyan and Batra have also made the mixed doubles semifinals.
Sharath and Das beat Canada's Zhen Wang and Mo Zhang 11-9, 11-9, 5-11, 11-5 while Sathiyan and Batra defeated Singapore's Xue Jie Pang Yihan Zhou 11-6, 12-10, 14-12.
In the men's singles, Sharath beat England's Liam Pitchford 9-11, 13-11, 10-12, 11-9, 11-7 11-9 to reach the semifinals even as campatriots Sathiyan and Harmeet Desai crashed out.
Desai lost to world no 26 Quadri Aruna of Nigeria 9-11 8-11 9-11 8-11 and Sathiyan was ousted by England's Samuel Walker 8-11, 8-11, 11-13, 15-17.
Sharath will face Quadri in the semi-finals on Saturday.
© Copyright 2022 PTI. All rights reserved. Republication or redistribution of PTI content, including by framing or similar means, is expressly prohibited without the prior written consent.