'Of course we are not happy but the players are even more disappointed than me'
'I can't change the result now, we are now looking forward to the next match'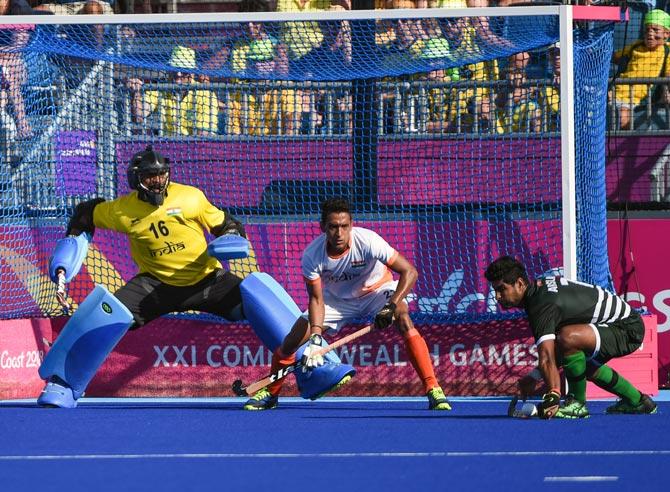 India hockey coach Sjoerd Marijne said he found it hard to recognise the team he has been coaching while watching it squander lead and settle for a frustrating 2-2 draw against a lackadaisacal Pakistan in the Commonwealth Games on Saturday.
"Today, I didn't recognise the team I have been coaching for the last five months," a livid Marijne said after the pool B match which ended in a 2-2 draw.
India conceded a goal in the final seven seconds after leading 2-1 in the match, giving Pakistan more reason to celebrate despite the shared honours.
Asked if the Indians were too relaxed in the clash owing to Pakistan's poor recent form, Maijne said, "Sometimes if you have nerves then it can look you are too relaxed."
Breaking down India's mistakes, Marijne said the team faltered in doing the basics right.
"The structure wasn't good enough, the level was low. It could just be because we were playing Pakistan, or it can be because this is the first match of tournament. I can't change the result now, we are now looking forward to the next match (against Wales tomorrow)," he said.
The Dutchman said his wards ended up making Pakistan look good, a team that lacked any spirit in the first 30 minutes.
"Of course we are not happy but the players are even more disappointed than me. We need to figure out why did this happen, that's most important. I am absolutely not satisfied with the performance," he said.
"If you see this match, we have to improve the basics. We let Pakistan play well. I want to have a feedback fom the team, what did they feel. The gameplan was clear but still they lost their heads," he added.
However, Marijne rejected suggestions that India are more susceptible than others when it comes to conceding late goals.
"...it happens a lot with other teams too. Consistency is discipline and the discipline today was less than the previous matches. The quality is there but we have to show it over and over again, like Australia," he opined.
"We must not give excuses, we didn't play well. We are much better than this," he said.
Marijne has left on-field decision-making completely on players and asked whether he needs to be more involved given today's performance, he said, "If we choose a certain style we don't change after one bad match."