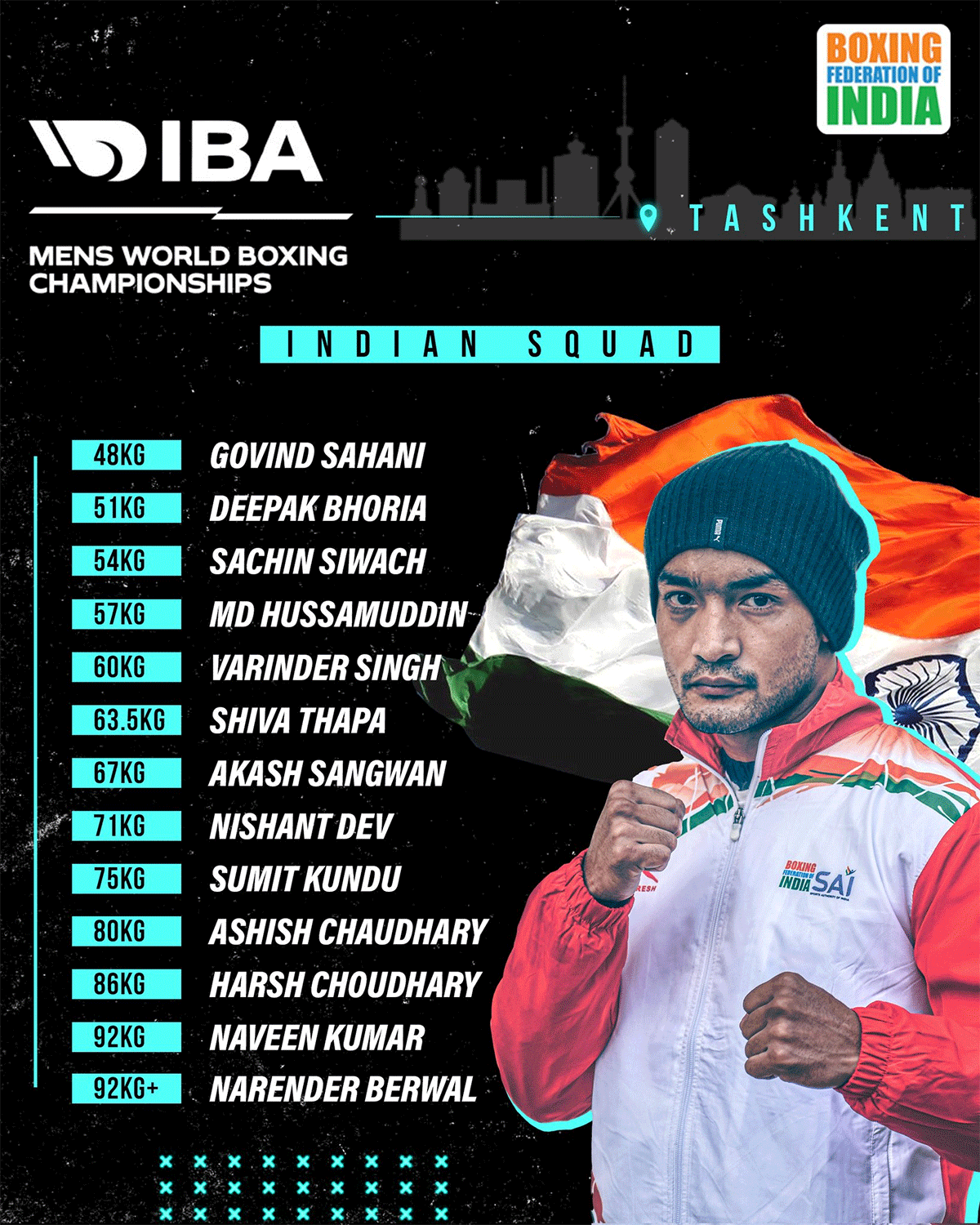 Six-time Asian Championships medallist Shiva Thapa will spearhead the Indian squad in the men's World Boxing Championships even as last edition's silver medallist Amit Panghal will miss out on the marquee event to be held in Tashkent, Uzbekistan, from April 30 to May 14.
Shiva, who won a World Championships bronze in Doha in 2015, will be looking to add another medal to his name. He will be fighting in the 63.5kg category.
Reigning Commonwealth Games champion Panghal, on the other hand, finished second behind 2019 Asian Championships silver medallist Deepak Bhoria under Boxing Federation of India's new selection policy in the 51kg flyweight category.
He scored 682 after the three-week evaluation process where the boxers were judged on various parameters, while Deepak, who has been one of the most improved boxers in recent times, had an overall total of 731.
Notably, Panghal had become the first male boxer from the country to clinch a silver medal at the world event, in 2019.
Deepak announced his arrival on the global stage in 2021, when he defeated 2016 Rio Olympics gold medallist and 2019 world champion Shakhobidin Zoirov of Uzbekistan, at the Strandja Memorial tournament.
"Men's team has been working extremely hard and I wish them all the best. I am confident each one of them will make the country proud," said Ajay Singh, president, Boxing Federation of India (BFI), in a release.
The Indian team will leave for Tashkent on April 17 and they will attend a multi-nation training camp before the World Championships.
The championships will also feature seven defending world champions including Sofiane Oumiha from France, Japan's Tomoya Tsuboi and Sewonrets Okazawa, Loren Alfonso from Azerbaijan, Saken Bibossinov from Kazakhstan and Cuba's Yoenlis Hernandez Martinez and Julio La Cruz.
The Indian team will also have experienced campaigner and 2022 Asian Championships bronze medallist Mohammad Hussamuddin. He will box in the highly competitive 57kg category at the showpiece event.
The Tashkent championships have already seen a registration of around 640 boxers from 104 countries.
Tokyo Olympian and 2019 Asian Championships silver medallist Ashish Chaudhary will also be representing the country for the second time and would be keen to add another major medal to his name.
Govind Sahani, who recently won silver at the Strandja memorial boxing tournament, will be showcasing his skills in the 48kg category.
Meanwhile, 2021 World Youth champion Sachin Siwach will be representing India in the 54kg bantamweight category. He will be eager to continue his impressive form and add to his medal tally.
Young pugilists Varinder Singh (60kg), Akash Sangwan (67kg), Nishant Dev (71kg) and Sumit Kundu (75kg), who had won the gold medal at the National Championships earlier this year, will be donning the Indian jersey in their respective categories.
The quartet had represented the country at the 2021 World Championships and will be looking to use the experience to win this time.
Harsh Choudhary, who hails from Rajasthan, will be making his debut at the World Championships in the 86kg category, while national champions Naveen Kumar and Narender Berwal will be seen competing in the 92kg and 92+kg categories respectively.
The gold medallists will walk away with a prize money of US$200,000. The silver medallists are to be given US$100,000 and both bronze-medallists will be awarded US$50,000 each.
In the seven Olympic weight categories -- 51kg, 57kg, 63.5kg, 71kg, 80kg, 92kg and 92+kg -- two boxers each will participate in the training camp.
Indian squad: Govind Sahani (48kg), Deepak Bhoria (51kg), Sachin Siwach (54kg), Mohammad Hussamuddin (57kg), Varinder Singh (60kg), Shiva Thapa (63.5kg), Akash Sangwan (67kg), Nishant Dev (71kg), Sumit Kundu (75kg), Ashish Chaudhary (80kg), Harsh Choudhary (86kg), Naveen Kumar (92kg) and Narender Berwal (92+kg).
© Copyright 2023 PTI. All rights reserved. Republication or redistribution of PTI content, including by framing or similar means, is expressly prohibited without the prior written consent.