The Queen's Baton of the 2014 Glasgow Commonwealth Games was showcashed at the historic Qutub Minar as the QBR's India leg ended on the second day of its stop in New Delhi on Sunday.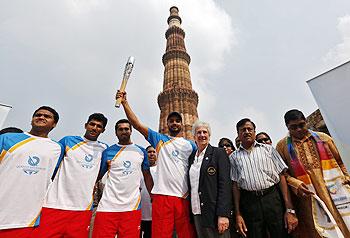 The Queen's Baton, which reached India on Friday night, was taken to the world famous Taj Mahal in Agra and the historic India Gate here yesterday by a host of sportspersons, including discus thrower Krishna Poonia and wrestler Yogeshwar Dutt.
The Baton, which carries Queen Elizabeth II's message to the Commonwealth, was taken to the 13th century monument on Sunday afternoon. Commonwealth Games Federation Secretary and 2014 Glasgow CWG Vice-Chair Louise Martin and Indian Olympic Association Joint Secretary R K Gupta were present on the occasion.
Among the sportspersons, who held the Baton, were hockey players Harbir Singh, S K Uthappa, P T Rao and Dharamvir Singh.
Though it was just a photo-op event, a sizeable weekend crowd, which was visiting the Delhi's iconic monument, were present.
The Baton will leave Delhi for Dhaka on Monday morning.
Image: Indian field hockey player Harhir Singh (centre) holds the Commonwealth Games Baton as he poses with Louise Martin, Board Member of Commonwealth Games Federation, and other players and officials in front of 13th century Qutub Minar in New Delhi on Sunday
Photograph: Mansi Thapliyal/Reuters