The 19th Commonwealth Games were declared open on Sunday in a spectacular opening ceremony which could repair some of the damage to India's image after a calamitous build-up to the sporting festival.
"I am delighted to declare the Games open," said Britain's Prince Charles, who was greeted with chants of "India! India!" before he read out a message from his mother Queen Elizabeth, the head of the Commonwealth.
A plethora of musical instruments enthralled a capacity crowd at the Jawaharlal Nehru stadium in New Delhi as the opening ceremony showcased the rich cultural heritage of India.
India has always been a land of rich musical heritage and the opening ceremony, which had a number of cultural programmes, saw some traditional and unique musical instruments from different parts of the country.
The ceremony was heralded in a traditional Indian way by the blowing of a conch or 'shankh', considered auspicious for the start of any event.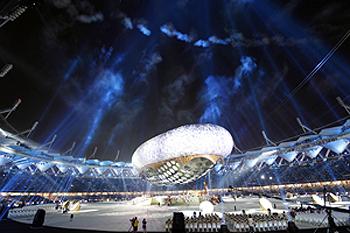 Next was the 'Dung Chen', a long trumpet or horn used in Tibetan Buddhist ceremonies and one of the oldest instruments dating back to 1500 BC.
The Dung Chen players along with the conch blowers set the tone for the evening as the famous 'Nagada' players also joined them to mesmerise the spectators.
'Nagada', a percussion instrument that resembles the kettle drums of the old Naubat -- traditional ensemble of nine instruments, along with the two wind instruments, provided the background score.
This was followed by the aerostat, filled with 20,000 cubic metres of helium gas, rising dramatically to its full height to the thunderous applause of the spectators in a dimly-lit stadium.
The 'Pung', a unique Manipuri hand-beaten drum, then enthralled the audience with the Pung cholom, where the dancers twirl and jump mid-air, culminating into a thunderous climax.
As the Pung Cholom subsided, the audience were kept spellbound by another traditional form of drum called Chenda, a cylindrical percussion famous for its loud and rigid sounds.
120 Chenda drummers took to the stage and soon two tribal drummers -- Bihu and Gudum Baja -- came out from under the stage on to the field of play.
Soon, two more unique musical instruments -- Gaja Dhol and Wangala -- were played as the drummers entered from under the stage as others formed choreographic patterns on the field to provide a memorable evening to the spectators at the 60,000 capacity stadium.
Photograph: Reuters