Soniya Chanu got India's medal tally off the mark on Monday, winning a silver in the women's weightlifting competition at the 2010 Commonwealth Games, but, surprisingly, there was gloom in the Indian camp.
A hot favourite to win the gold in the 48-kg category, the Indian strongwoman's showing was clearly a shade below 17-year-old Nigerian Augustina Nikem Nwaokolo, who won the gold.
Augustina broke five Games records en route to the first gold medal that was decided at the Delhi Games.
The Indian weightlifting team, despite placing second and third in the event, was visibly upset.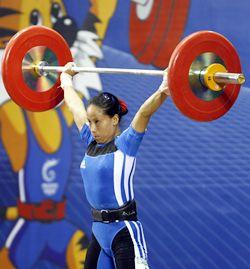 Chanu felt she let her coach down.
"I don't think God was on my side today, because it was plain bad luck that I lost the gold medal. I am happy to win the silver medal, but, at the same time, I feel very sad for my coach, Harnam Singh, who always believed that I would win the gold medal at the Delhi Games. He treats me like his daughter and I am really disappointed that I could not fulfill his dream.
"I got only two successful attempts out of six. I think my performance in the snatch was disappointing," Chanu said after the event.
Chanu took the silver with a total of 167 kg, while Sandhya Rani Devi took the bronze with a total lift of 165 kg.
The previous Games record belonged to India's Kunjarani Devi, 167.50 -- 92.5 in the clean and jerk and 75 in the snatch, set at the 2002 Games in Manchester.
Sandhya Rani Devi was, however, delighted with her performance.
"I am very happy to have won the bronze. My performances nearly ended in the Snatch but then I made a good comeback in the Clean and Jerk," she said.
Coach Harnam apologized for Chanu's hsowing and even blasted her for her mistakes.
"I want to say sorry to everyone because we have let them down. I am deeply disappointed because Chanu was sure to win a gold medal but the snatch went wrong. Technically, we were not at fault. It was well within her range to win the gold but she missed two snatches which cost her," he said.
Augustina created a Commonwealth Games record with a total of 175 kg as she lifted 77 kgs in the Snatch and followed that up with another successful lift of 98 in the Clean and Jerk.
Augustine said she was confident of striking gold.
"I am very happy at breaking the record. I had done it at training that is why I was confident of lifting that mark."
Photograph: Reuters