Australian and English swimmers are complaining of illness at the Delhi Commonwealth Games and the reason might be "contaminated" water in the pool.
According to reports in local newspapers here, a "dozen Australian swimmers and two coaches are known to have been struck down by stomach illnesses."
"Fifty English athletes have been confirmed ill, with 40 swimmers from the four British nations affected," the report stated.
Australia's chef de mission Steve Moneghetti said contaminated water in the pool could "possibly" be the reason for the outbreak.
"At this point in time, I would only be speculating, it's a possibility it's where the swimmers have come from and what the swimmers are doing," Moneghetti was quoted as saying in the newspapers here.
"It may be, I'm not sure, I don't want to jump to conclusions because we've got no medical evidence for why this is happening. My concern is I want our team to perform well," he added.
Moneghetti, however, conceded that the pool was being tested everyday.
"They've done tests," Moneghetti said.
"They've tested the water quality and we wouldn't go into the pool without the water quality reports having come through.
"The water quality at the pool, as far as I know, from reports from head coach Leigh Nugent, he said they were happy to compete in it," he added.
Australian team doctor Peter Harcourt said the illness doesn't look food-related because it has been by and large limited to swimmers.
"He doesn't think it is food-related," Moneghetti said.
"It seems more confined to one particular sport, obviously we are all eating in the dining hall. We are all eating the same food but there's very few cases across the board. It seems there are more cases specifically in one sport," he added.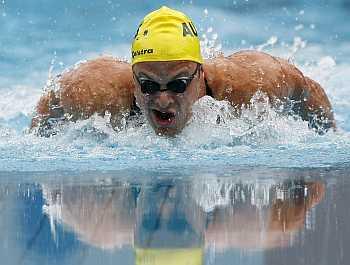 Andrew Lauterstein (50m butterfly) and Hayden Stoeckel (100m ackstroke) "are confirmed to have gastro. Both have been quarantined from the team as protocol dictates."
According to the report, Ryan Napoleon, Robert Hurley and Marieke Guehrer have also fallen ill along with Emily Seebohm's swim coach Matt Brown.
High-profile English swimmers Lucy Halsall and Rebecca Adlington are other swimmers reported to be ill.
"We just have to battle on," Halsall said.
"I had the shakes for a while yesterday and had to get warm quickly. I had a piece of bread for dinner last night but I am glad I didn't have anything more because I arrived here today and the toilets were blocked.
"It's disappointing. I spoke to a lot of the Aussies today and they are feeling like we are. We are struggling on and showing the true British spirit," she said.
London's 'Daily Telegraph' claimed nearly 50 of the 243 England athletes in Delhi are battling Delhi belly and a diarrhoea bug.
England's swimming leader John Atkinson said 20 per cent of the team have been affected by illness.
"There have been swimmers who have come down with short term sickness bugs but we are dealing with everyone in isolated cases. We can manage with that and do our best to get them back in racing," Atkinson said.