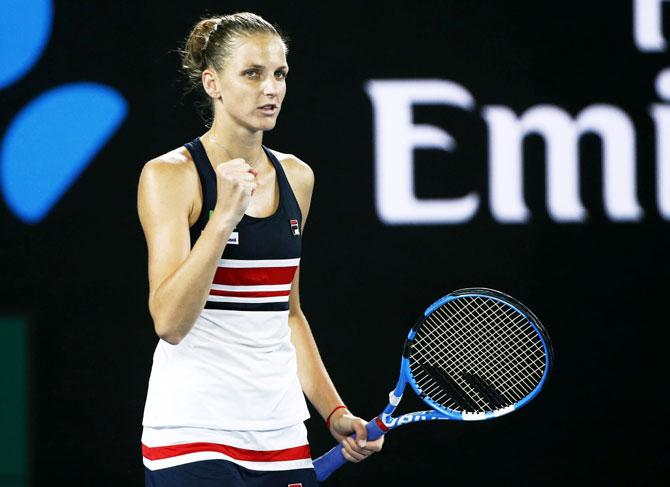 IMAGE: Czech Republic's Karolina Pliskova celebrates winning her match against compatriot Barbora Strycova in her fourth round match on Monday. Photograph: Thomas Peter/Reuters
Karolina Pliskova may have been somewhat confused by being compared to a cucumber after reaching the quarter-finals of the Australian Open but she was crystal clear about what she needed to do to go a step further.
The sixth seed burnt the midnight oil in her all-Czech fourth round grudge match against Barbara Strycova, finally clinching a 6-7, 6-3, 6-2 victory at 1.35 a.m. local time on Tuesday morning.
The pair fell out last year when coach Tomas Krupa switched from Strycova to Pliskova, with David Kotyza later moving the other way.
Pliskova was clearly a little nonplussed when the on-court presenter described her as "cool as a cucumber", later explaining she had never heard the expression before.
"I don't know if this is something from Australia?" Pliskova said with a smile, before agreeing that she had not been particularly bothered about going a set down.
"I was fine. Obviously the first set took me some energy, some power. I had some chances. I didn't play well on them," the 25-year-old added.
"She didn't play anything, like, any perfect shot. Everything was my mistake. Next time I knew I had to play everything better."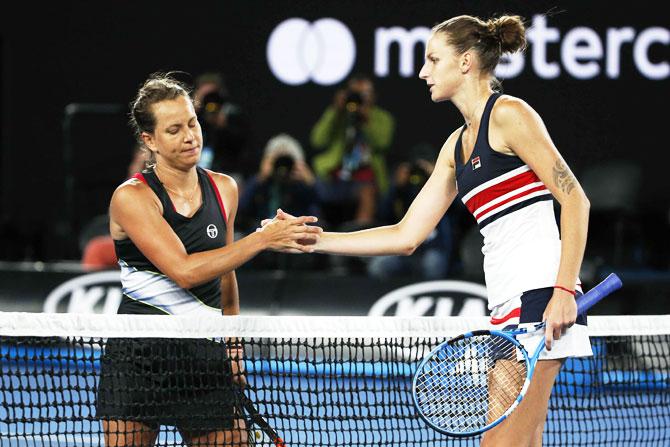 IMAGE: Czech Republic's Karolina Pliskova (right) shakes hands with compatriot Barbora Strycova after their match. Photograph: Toru Hanai/Reuters
Standing in Pliskova's path to a maiden Melbourne Park semi-final is World No 1 Simona Halep, who she has played seven times before and beaten just twice -- both in Fed Cup ties.
"I think there is always chance to beat her. It's going to be about me," Pliskova said.
"I have to play well to win. I have to serve well, otherwise she has, I would not say dangerous game but if I don't play well I don't have the chance to win against her.
"I have to play something to beat her, have to have some winners, some aces against her. I have to get my mindset ready for this."
Pliskova said she had put the coaching controversy with Strycova out of her mind before Monday's match.
"I just try to put everything what happened between us away from this because it was a normal match basically," said Pliskova.
"I was just trying to play my game because I know if I would get into it, think about what everything happened with the coaches and with her, I would not be playing the best.
"I think this I did perfect. Whoever is coaching her, I'm just happy right now with my team. These things are not my business any more."