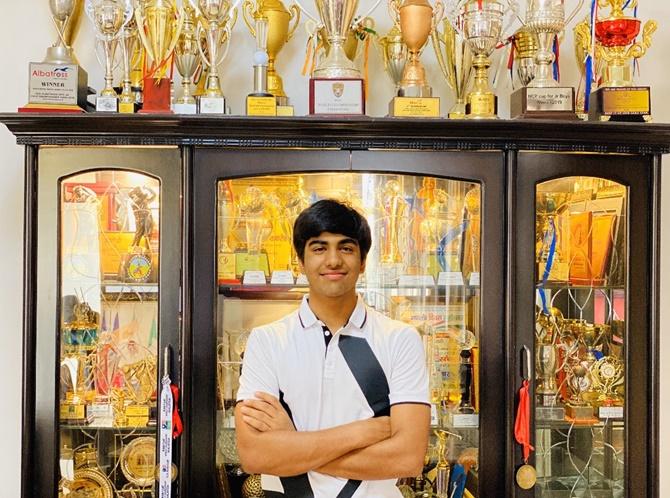 He might be just 15 but golfer Arjun Bhati has managed to raise ₹ 4.30 lakh to fight the COVID-19 pandemic by selling all his trophies, including three world junior golf championship titles and a national championship.
The golfer from Greater Noida, who won the US kids junior world championship in 2016 and 2018 and FCG callaway junior world championship last year, has donated the money to the-CARES Fund.
Arjun said he sold all of his trophies to his relatives and friends of his parents to raise the fund.
"In last eight years, the 102 trophies that I won across the world, I have given them to 102 people in this hour of crisis. The total amount of ₹ 4,30,000 that I received from that, I have donated that today to the-CARES Fund," he tweeted in hindi on Tuesday.
"After coming to know about my contribution, my grandmother first cried and then said, 'you are a real Arjun. At this point of time, it's important to save human lives. Trophies can be won in future'."
The youngster thus joined the Indian sports fraternity, which has made a significant contribution to contain the deadly disease, which has killed over 80,000 and infected nearly 1.5 million globally.
Chess players raise fund for fight against COVID-19
Chess players in the country, including the likes of Grandmaster P Harikrishna, are doing their bit in the fight against the COVID-19 pandemic by raising more than Rs 3 lakh as their contribution.
Some young chess players from across the country hosted an online tournament and raised ₹ 1.05 lakh while noted coach R B Ramesh collected funds through his 'Chess Gurukul' with GM P Harikrishna contributing ₹ 2 lakh and Karthikeyan Murali donating ₹ 25,000.
One GM, seven International Masters, many national chess champions and enthusiasts came together and hosted an online tournament under the aegis of "The Chesster group" on Tuesday, a press release said.
The tournament, hosted on www.Lichess.org, saw enthusiastic response from chess players from cities like Mumbai, Noida, Nagpur, Hyderabad. Donations also came in from the Immortal Chess Forum, the release said.
Over 80 chess players and enthusiasts contributed ₹ 1.05 lakh to be donated to the PM Cares Fund.
Sixteen-year-old Vedant Panesar, Adarsh Tripathi and Yash Srivastava, who conceived the idea, said through the initiative they wanted "contribute in a small way to the cause."
Hockey India donates ₹ 21 lakh Odisha Chief Minister's Relief Fund
Hockey India (HI) donated ₹ 21 lakh to the Odisha Chief Minister's Relief Fund to help the state fight the deadly COVID-19 pandemic.
With the number of cases on the rise in Odisha, HI Executive Board took a unanimous decision to make the contribution in order to support the state government in its fight against the pandemic, which has so far claimed nearly 150 Indian lives apart from causing more than 80,000 deaths globally.
"...given the current crisis that we are all facing, everyone at Hockey India hopes that this contribution of ₹ 21 lakhs can make a difference in the fight against COVID-19 pandemic," HI president Mohammed Mushtaq Ahmad said in a statement.
"The Government of Odisha is doing their best to fight the pandemic in the state, and we hope that through this contribution, Hockey India can also help the people of Odisha, who have always been huge support for Indian hockey."
HI secretary general Rajinder Singh agreed with his president and said it was a small gesture from the hockey family towards Odisha, which has contributed immensely to the development of the sport in the country.
"Hockey India has always received huge support and motivation from the people of Odisha, and I am proud that the Hockey India Executive Board took this unanimous decision to contribute a total amount of ₹ 21 lakh to the Odisha Chief Minister's Relief Fund.
© Copyright 2021 PTI. All rights reserved. Republication or redistribution of PTI content, including by framing or similar means, is expressly prohibited without the prior written consent.