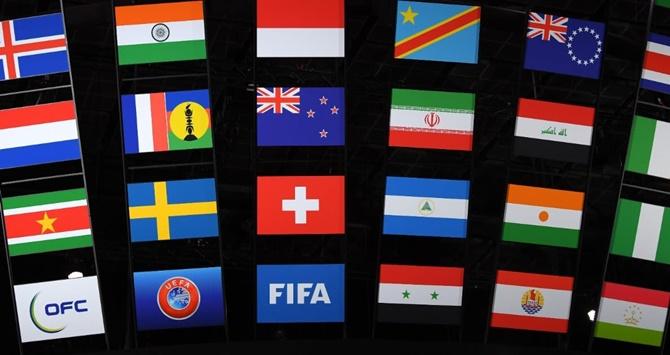 FIFA will release operational funds for 2019 and 2020 amounting to $150 million to its member associations as the first step of a relief plan to help negate the economic impact of the COVID-19 pandemic, the global soccer body said on Friday.
Each of FIFA's 211 member associations would receive $500,000 in the coming days as well as any remaining entitlements for 2019 and 2020, it added.
The coronavirus outbreak has brought soccer to a standstill and clubs have struggled to cope with the loss of revenue.
"The pandemic has caused unprecedented challenges for the entire football community and, as the world governing body, it is FIFA's duty to be there and support the ones that are facing acute needs," FIFA President Gianni Infantino said.
"This starts by providing immediate financial assistance to our member associations, many of which are experiencing severe financial distress.
"This is the first step of a far-reaching financial relief plan we are developing to respond to the emergency across the whole football community."
FIFA said it would immediately release the second instalment of operational costs for 2020, originally due in July, and which under normal circumstances member associations would have only received in full upon fulfilment of specific criteria.
"This immediate financial assistance should be used to mitigate the financial impact of COVID-19 on football in member associations, namely to meet financial or operational obligations that they may have towards staff and other third parties," FIFA said.
Spanish players ask for clarity on testing as return looms
The Spanish Footballers' Association (AFE) is concerned about players undergoing large-scale testing for the novel coronavirus as it believes other sections of society need tests more urgently, the organisation said in a statement.
Soccer in Spain has been indefinitely suspended since March although organising body La Liga has sent a protocol to clubs in the top two divisions outlining conditions for restarting training which includes vigorous testing for players and staff.
La Liga president Javier Tebas has said matches in closed stadiums could commence from May 29, June 7 or June 28 in a bid to complete the last 11 rounds of the season and avoid potential losses of one billion euros ($1.08 billion).
The statement from the players' association said it had written to the health ministry and the sports ministry to ask if clubs were authorised to conduct tests.
It also reiterated players' concerns about returning to work while the virus was still a threat and said they were wary of being stigmatised by the public for using testing equipment at a time of heightened public need.
"AFE wishes to point out that footballers have made it clear that other groups in society need tests and access to healthcare equipment more than they do," said the statement.
"As workers, footballers will do as they are asked to by their clubs as long as there are no risks, which is why we believe it is absolutely necessary that the government provides clarity about testing."
La Liga's protocol, which has been distributed to clubs and seen by Reuters, states that players will be subject to at least three tests before returning to action. Players will also be obliged to live together in isolation, away from their families.
The sports ministry released a statement on Friday outlining a plan for professional athletes to return to work, which stated that players in the top two divisions of soccer and basketball could be back in full training by May 18 or 25.
It also gave a list of benefits from sport resuming, which include boosting the flailing Spanish economy, protecting Spain's reputation as an international sporting powerhouse and giving people a sense that normality was returning.
Spain has the third highest number of deaths from COVID-19 in the world at 22,524 although its daily death toll fell to the lowest in more than a month on Friday as the government prepares to ease one of Europe's strictest lockdowns from May.
German Cup final postponed indefinitely as season still suspended
The German Cup final has been postponed indefinitely from its original May 23 date due to the coronavirus outbreak, which has wreaked havoc with the season, the German Football Association (DFB) said.
Football in Germany has been suspended since mid-March and will remain so until at least April 30. The German Football League is hoping to restart the Bundesliga sometime in May.
"Due to the current suspension and the open question as to when play will resume, the dates for the German Cup final and the two semi-finals will for now remain vacant," the DFB said in a statement.
The German government is due to meet with leaders of the federal states next week to discuss any potential easing of coronavirus measures in Germany, which could potentially result in a league restart next month.
Whenever the final takes place, it will most likely be played in front of empty stands, DFB President Fritz Keller said, as spectators in Germany will not be allowed in when play resumes.
Bayer Munich face Eintracht Frankfurt and Saarbruecken host Bayer Leverkusen in the last four of the German Cup.
K-League season to kick off on May 8 minus fans
The 2020 K-League season will kick off on May 8 behind closed doors after more than two months of delay caused by the COVID-19 pandemic, the South Korean league announced.
Five days prior to its original Feb. 29 start, the 12-team league was postponed but South Korea is now among the first countries to bring a major outbreak of the virus under control.
Defending champions Jeonbuk Hyundai Motors will host Suwon Samsung Bluewings in Jeonju in the league opener, the Korea Professional Football League said in a statement after a board meeting.
In keeping with the Korean government's social distancing guidelines, early season matches will be played without fans.
Teams will play 27 matches, down from 38, with the bottom-placed side being relegated to K League 2.
The second-tier season will also begin on May 8.
If any player or member of the coaching staff was found to be infected with the virus during the season, his team would not play another match in the next two weeks at least.
With the situation improving, the league said on Monday that clubs would be allowed to play practice matches against each other.
The Korea Baseball Organisation (KBO) announced on Tuesday that the 2020 regular season will begin on May 5 after being postponed from its March 28 start.