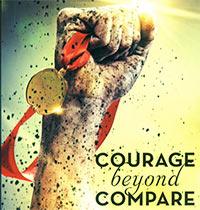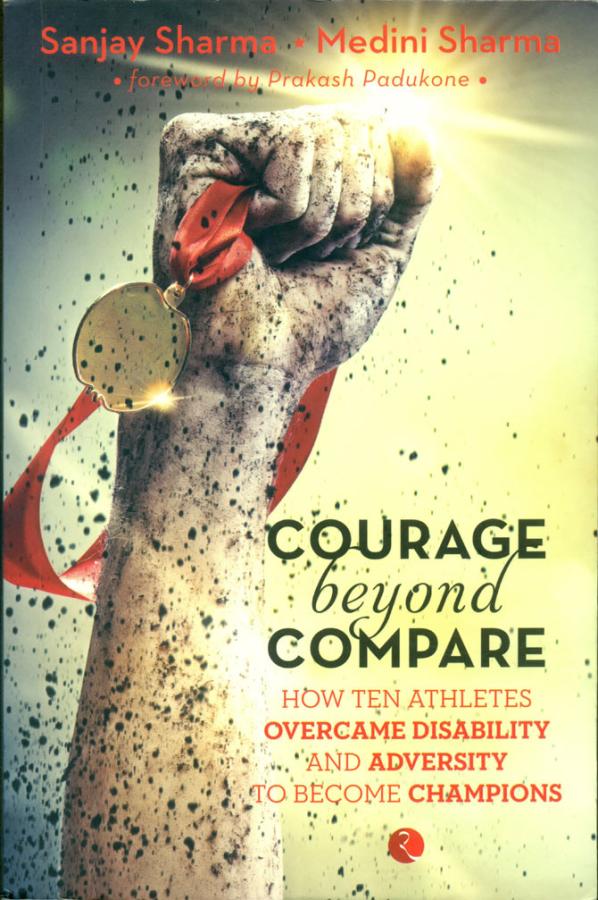 Book cover: Courage beyond Compare.
Courage Beyond Compare, as the name suggests, is all about Indian paralympic sports stars who despite physical disability battled the odds to become world class, champion athletes.
Written by former India badminton player Sanjay Sharma and his daughter Medini, a former international tennis player and television sports producer, the book provides a microscopic view of the lives of sportsmen like the great Mansur Ali Khan Pataudi; the talented, deaf-mute badminton ace Rajeev Bagga, who played against the best in the Open category and emerged paralympic champion, and Arjuna awardee Devendra Jhajharia.
The book delves on how these sportsmen had to forgo tournaments and better rankings because of a complete lack of apathy shown by incompetent officials of various sporting bodies.
The only drawback of the book is the absence of action photographs to the heart-warming profiles. With no images of the sportspersons, the book is a tad incomplete.
All in all, it provides a good dose of inspiration, backing the fact that it's always the case of mind over matter!
Read on for inspiring excerpts from the book -- the first is taken from the chapter on Rajeev Bagga and the second from the chapter on double amputee Satya Prakash Tewary:
-----------------------------------------------------------------------------------------------------------------------------
No one could believe that he had defeated Padukone. Of course the media blamed the shuttles and other things. But whichever way one looked at it, the eventual winner, creating history of sorts, was the Maharashtra player, who was not considered to have even a ghost of a chance before the match.
This really was the turning point in his career, a moment of time from which he milked great amount of self-confidence and an innate understanding of his own qualities and abilities. Though he lost in the next round, he knew he could build upon this momentous victory.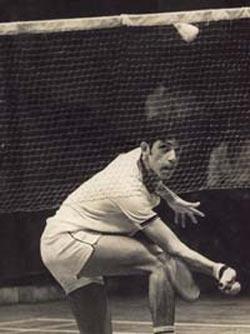 On the return journey to Bombay, in communication with me, he explained, 'I now realize that if I can beat Prakash sir, I can beat anyone on the court. The shuttles were one thing, but I was matching his movements and I could read his game. Furthermore your training to help me reach and contact the shuttle early at the net helped immensely. There is more work to be done but I think I can get into the national team soon.'
Clearly, he was also an analyst who could work out his own weaknesses and his strong points. This was a revelation to me as his coach. Later, even a player like Pullella Gopi Chand, who was to win the All England in 2001, but who lost out to Rajeev in the National Championships of 1992 and 1993, told me that he found Rajeev a very ferocious and intelligent player on court.
'I have great respect for Rajeev Bagga (left), both as a player and as a person. He played fair and square, no hanky-panky about him. He was a very shrewd player who would immediately exploit your weakness if he found any. He hardly had any weak points.
'The only area I can now think of is that in very long-lasting matches, he was found wanting in stamina. But he hardly ever allowed matches to go long. And he had the strongest wrist I have encountered. He could hit the shuttle hard from any area of the court, be it backhand or forehand. He had a wonderful touch at the net and his defence was hard to breach.
'In my early years, I know I could have won more national titles but for him. I was defeating everyone else, but for the three years that Rajeev dominated the singles game, he was a real stumbling block for me. I sometimes wonder where he would have reached had he played with the shuttles we use today, or the new racquets and string that make your game effortless. He would have been really demonic on court had he played in this era. And I learnt a lot watching him,' says Gopi.
It was not long before Rajeev made his debut for India in the senior team. As a junior, he had gone to Kuala Lumpur in Malaysia to play a junior international. In 1988 he was selected to play the Far East tour and the SAARC games.
In 1989 he was again selected to play in the Malaysian and Singapore Opens and, of course, the big break came when, in a period of just six months, he was selected to play the Asian Championships in Indonesia at the end of 1989, the 1990 Commonwealth Games at New Zealand in January, and the Asian Zone Thomas Cup matches at Kuala Lumpur in February of the same year. He had arrived, and now really cemented his place in the national senior squad.
His fame as a deaf-mute player, the only one playing top-grade international badminton, reached far and wide as local media in all countries where he went to play highlighted his impairment, not in any way offering sympathy, but more as something wondrous that he had achieved.
There was a curiosity attached to him. And, more importantly, the local deaf-mute community came in droves to cheer him on. He was their own -- a gifted shuttler who was taking on the 'hearing' players and making many of them bite the dust. It was in a way cocking a snook at the 'hearing' world. Rajeev Bagga was becoming a worldwide sensation, garnering as much print and television coverage as eventual winners, sometimes more.
One journey that was to change the destiny of Rajeev, in a way, was the trip to the Junior Championships in Kuala Lumpur in 1985. It was here that Brigadier Bagga learnt of the Deaflympics (formerly called the World Games for the Deaf ) held every four years, under the banner of the International Olympic Committee. The Brigadier read in a local newspaper that the 1985 Games were being held at Lausanne in Switzerland.
On coming back to India he got in touch with the National Association for the Deaf, which could send a badminton team for the next games. The officials were not aware of Rajeev and, in fact, told his father that there was no deaf player in the country. Brigadier Bagga chased the concerned sports association and got them to organise the National Deaf Championships in Mumbai in 1987, which Rajeev won hands down. In 1988 and 1989 he again won the title with hardly any opposition.
By this time, another deaf-mute player, Sandeep Dhillon, who was representing Maharashtra at the senior level in 'hearing' games, had also joined in. Luckily he too trained with me, and these two formed a formidable doubles combination. And playing in the 'hearing' category open events, their skill and game had also become sharp and lethal.
The hard work of Brigadier Bagga and the two players paid off, and a badminton squad comprising Rajeev and Sandeep was selected to represent the country for the 1989 World Games for the Deaf in New Zealand. Brigadier Bagga was selected to manage the affairs of the two players in terms of travel, local communication and any other sort of help they would need. And the rest, as the cliché goes, is history.
************************************************************************************
It is good that Satya is strong of body and mind (Satya Prakash Tewary lost both his legs in a train accident at the age of 16). And that in spite of not having the best equipment available, he still managed to pursue excellence with focused devotion. But some sense of disappointment and hurt evidently exists as he questions why Indian society and the government does not bother much about the achievements of the para-athletes and the paraplegics who have brought much more honour to the country in their chosen disciplines than have abled athletes.
'Whenever we go abroad for international meets, the coaches of other countries are trained to deal physically and psychologically with disabled athletes. We have no coach in any discipline trained to understand our needs. All of us are left to our own devices. There are general coaches, but no experts in the handicap categories that we carry with us. That is one main issue.
'And I also want to know why we are not remembered or honoured as much by the state or the central government. Everyone knows Abhinav Bindra as our Olympic gold medallist but no one knows that Murlikant Petkar won a paralympic gold in 1972 and Devendra Jhajaria won gold in 2002. As far as Asian Games go, the abled athletes have not got even half the number of medals we have won over the decades. Yet there is hardly any recognition.'
Today Satya is not so much bothered about his handicap, but wishes that society would wake up and understand the needs of wheelchair-bound people, so that in future such people can participate in social engagement on equal terms and as much as abled citizens.
'We have a lot to give to the society even though life is very difficult for the handicapped,' he says, but adds that society must be inclusive. He is also critical of many non-governmental organizations which take government grants to help the disabled, but hardly any help percolates down to the needy.
This life story of a mentally abled but physically disabled legend cannot be complete without a typical ending.
Satya Prakash Tewari overcame a horrendous accident, overcame physical and mental trauma, was visited by tragedy many times, yet displayed enormous courage and perseverance to win 16 international sports medals for India in the most competitive arenas. He could not become the next Sunil Gavaskar or a decorated soldier, but he fulfilled his new dream, that of seeing the tricolour fly proudly at sports podiums worldwide thanks to his abilities, hard work and never-say-die spirit.
However, while he could achieve enormous success in the sports field by his grit and determination, he came out as a failure in areas where he and others of his ilk are conveniently overlooked by an ungrateful nation.
Satya Prakash Tewari tried three times to get the coveted Arjuna Award, but was unsuccessful. He applied for a state government apartment given to top sportsmen in Maharashtra, but does not know where his files are, despite having applied many times.
The cash compensation or rewards from the sports ministry at the Centre for winning medals at the Asian and world levels promised many times in front of the media and dignitaries, have also not found their way to him. Not a single rupee.
Yet the sporting spirit in him is still alive. 'I will continue to be a sportsman and will try winning more laurels for my state, my country. That is my duty. What the country and state do for me is up to them. Officials and politicians can turn a blind eye towards my victories, but they cannot understand or take away satisfaction I derive from my achievements. No one can take that away from me.'
You can find a copy of the book here.
Excerpted from Courage beyond Compare, by Sanjay Sharma and Medini Sharma, Rs 295, with the permission of publishers Rupa Publications.