Phony NFL merchandise and tickets worth $21.6 million have been seized and 50 people arrested in a crackdown on counterfeiting ahead of this weekend's Super Bowl, U.S. law enforcement officials said on Thursday.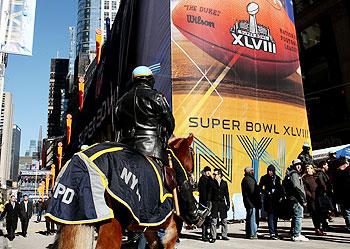 Standing beside stacks of knock-off Denver Broncos and Seattle Seahawks jerseys and sweatshirts they said had been seized mostly at U.S. ports, officials with U.S. Immigration and Customs Enforcement as well as the National Football League warned that bogus tickets are also a particular hazard for fans.
"You might be spending thousands of dollars on counterfeit tickets that will never get you into the stadium on game day," said Anastasia Danias, chief litigation officer for the league.
"Every year hundreds of fans are turned away at the gates."
That warning came a day after a New Jersey sports memorabilia dealer sued the New York Giants, claiming the team intentionally doctored helmets and jerseys to make them look as if they had been worn on the field, and then llowed them to be sold to collectors. The Giants denied the charges.
John Sandweg, acting director of ICE told reporters the merchandise seizures, which he said were the largest ever recovered in an anti-counterfeiting sweep, were the result of a seven-month investigation.
"We are not letting up, we will continue to work through the next few days to take down the counterfeiters and scam artists," Sandweg said.
People who buy fake NFL merchandise online, often in an effort to find lower prices, run the risk of having their credit card number stolen and used in other transactions, Sandweg warned.
"What we're dealing with here are criminal organizations who are not only going to be committing this particular crime. But when they have the identifying information of the consumer, we have seen instances where they have taken advantage of that data," Sandweg said.
Danias, of the NFL, cautioned fans against buying tickets for cash on the street, warning that even authentic looking fakes could lack information that will be used to identify legitimate tickets by staff at Met Life Stadium in East Rutherford, New Jersey, where the game will be played.
TICKET PRICES DOWN
Ticket brokers have reported that the valid Super Bowl ticket prices have fallen in recent weeks as fewer hometown fans from Denver and Seattle appeared ready to make the long trip to New York while earlier forecasts for cold weather may have soured even some locals on the idea.
Current weather forecasts call for a low of 26 degrees Fahrenheit (minus-3 Celsius) the night of the game, seasonable for the New York area in January.
The New Jersey sports memorabilia dealer, Eric Inselberg, filed suit against the Giants and quarterback, Eli Manning, in New Jersey Superior Court in BergenCounty on Wednesday.
The suit contends the team routinely scuffed unused helmets and jerseys to make them appear to have been worn in games, thus making them more valuable on the memorabilia market.
The suit claims that Eli Manning, whose brother Peyton will be the Broncos' starting quarterback on Sunday, had an assistant equipment manager take a helmet he had not worn in the 2008 Super Bowl and rough it up to make it appear it had been used during the game, which the Giants won.
Inselberg contends in the suit that he owns the helmet worn in that game. He was charged in 2011 with knowingly dealing in fraudulent memorabilia, although prosecutors dropped those charges last year.
Giants spokesman Pat Hanlon denied the charges in the suit, which seeks unspecified financial damages.
"This suit is completely without any merit whatsoever and we will defend it vigorously," Hanlon said. "We will not otherwise comment on pending litigation."
Image: A member of the NYPD on horseback looks on near the toboggan run at Super Bowl Boulevard in New York City on Thursday
Photograph: Alex Trautwig/Getty Images