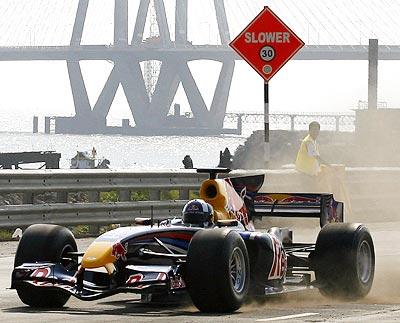 The Maharashtra State Road Development Corporation (MSRDC) will consider action against organisers of the exhibition event, where former British F1 racer David Coulthard drove a Formula One car on the Bandra-Worli Sea Link allegedly beyond permissible speed limits.
"I have asked my officers to submit a report on the event. Action will be considered only after it is established that the vehicle went beyond permissible speed limits on the sea link," MSRDC Managing Director Satish Gavai said.
On reports that the organiser 'Raging Bull' stands to forfeit Rs 14 lakh deposit for the event for violation of speed norms, Gavai said, "We will come to that after we receive the report."
Asked if it was true that the organisers were asked to move the event date after the Assembly elections, to avoid it being seen as a showcase for the government, Gavai said, "We had asked them to defer the event but they had received necessary permissions for that date already."
Coulthard, who started from the Bandra end, reached a top speed of around 265 kmph despite MSRDC warning him not to cross the 100 kmph limit, MSRDC sources said.
The race team 'Red Bull' paid Rs 35 lakh to MSRDC, of which Rs 21 lakh was to compensate for the day's toll collection on the sea link and Rs 14 lakh as deposit in case of an eventuality like an accident or damage to the structure.
Speeding beyond 100 kmph on the link's curve could result in a vehicle losing its balance due to the centrifugal force, the sources said.
The sea link is designed to allow speeds of only up to 100 kmph. Presently, motorists are not even allowed to go beyond 50 kmph, but, gradually, the permissible speed would be increased to 80 kmph, they said.
After his high-speed drive across the sea link Coulthard said, "I have been driving over 200 kmph all my life. It is difficult to keep my speed below 100 kmph."
The sea link was inaugurated by Congress president Sonia Gandhi on June 30 and has been highlighted as a major achievement of the Congress-NCP government, ahead of the Assembly elections.