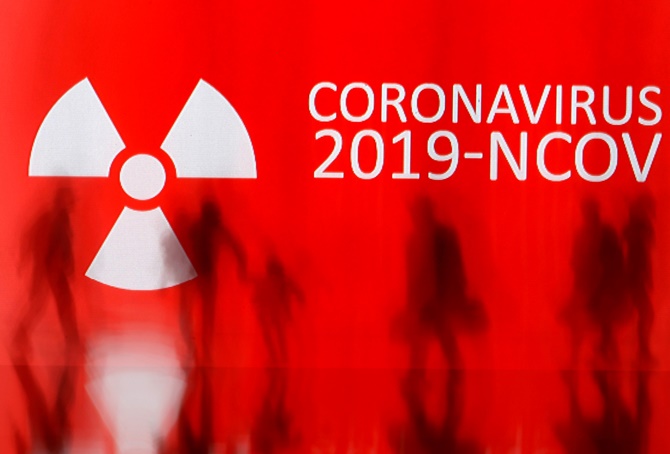 Manchester City's Premier League home match against Arsenal on Wednesday has been postponed because players from the London club have had contact with the owner of Greek side Olympiakos Piraeus, who has contracted the coronavirus.
A number of players from Arsenal's squad had met Evangelos Marinakis following their Europa League round of 32 meeting in London on Feb. 27.
Marinakis, who also owns English Championship (second tier) side Nottingham Forest, said on Tuesday he had contracted the coronavirus.
Globally, more than 116,000 people have been infected by the coronavirus and over 4,000 have died, according to a Reuters tally of government announcements.
"Manchester City's Premier League fixture at home to Arsenal has been postponed," City said in a statement.
"The decision to postpone tonight's game has been taken as a precautionary measure on medical advice, after it emerged that personnel from Arsenal FC have come into contact with the Olympiacos owner, Evangelos Marinakis, who has been named as a positive case of COVID-19."
Arsenal said the risk to their players was 'extremely low' but they would follow medical guidelines.
"The medical advice we have received puts the risk of them developing COVID-19 at extremely low," Arsenal said in a statement.
"However, we are strictly following government guidelines which recommend that anyone coming into close contact with someone with the virus should self-isolate at home for 14 days from the last time they had contact."
"The players will remain at their homes until the 14-day period expires. Four Arsenal staff, who were sitting close to Mr Marinakis during the match will also remain at home until the 14 days are complete."
La Liga to be played behind closed doors for at least two weeks
La Liga matches will be played without fans for at least the next two rounds of fixtures to try to stop the spread of the coronavirus, the Spanish league said on Tuesday.
The decision was taken in conjunction with the decision of the Spanish government's sports council (CSD) that professional and non-professional sports events and competitions should take place behind closed doors.
However, it was criticised by associations representing both players and supporters who said it would be better to call games off altogether.
La Liga said in a statement that first and second tier matches "will be played behind closed doors, starting today (March 10) and for at least the next two weeks."
It added that La Liga would follow recommendations of the Ministry of Health and CSD "prioritising the health of fans, players, club employees, journalists etc. due to the COVID-19 health crisis."
"For weeks, La Liga has been working on alternative plans in coordination with UEFA in case health authorities decide to suspend any match, creating a plan to play these matches," it added.
The first match affected is the clash between Eibar and Real Sociedad later on Tuesday at Ipurua Municipal Stadium, a game already postponed from Feb. 16 because of poor air quality.
If the measure is not extended, the next round of matches with supporters will take place on the weekend of April 4-5.
The Spanish Footballers' Association (AFE) sent letters to the Spanish Football Federation, La Liga and CSD asking for the matches to be postponed instead of played behind closed doors.
"We have asked for the suspension of all games in all divisions for both genders," said the AFE in a statement.
"Given the situation, we have made this request thinking exclusively about the health of the players, who collectively we represent."
Celta Vigo midfielder Denis Suarez wrote on Twitter: "Reflection: We play for the fans. Does it make sense to play without them?"
The umbrella organisation FASPE, which represents supporters groups and club members, agreed with the players.
"We believe that supporters are an intrinsic part of football which doesn't make sense at all without them," it said in a statement.
"The solution should not and must not involve playing matches in closed stadiums, but the postponement of the competitions until the health situation is safe and suitable for staging games in front of the public."
The Spanish Football Federation said they would consider postponing the Copa del Rey final between Athletic Bilbao and Real Sociedad on April 18 if matches still need to take place behind closed doors by that point.
Chile to quarantine returning soccer stars Alexis Sanchez and Arturo Vidal
Chilean soccer stars Alexis Sanchez and Arturo Vidal will be quarantined when they return to their home country from Europe to play in a World Cup qualifier this month, Chile's health minister said on Tuesday.
The players - who are signed to European clubs - are due to fly first to Uruguay for a World Cup qualifier on March 26 and then to Chile to face Colombia.
Italy announced a quarantine and advised against all but non-essential travel until April 3 after its death toll from coronavirus jumped by 168 to 631 this week.
"We do not make any distinction by people's profession because nobody is immune to this virus and indeed the quarantine determined today for Italy applies to everyone," said Health Minister Jaime Mañalich, according to local news website Emol.
"Of course, if these players want to work out on a machine in their homes, or all be quarantined together at Juan Pinto Duran (the national football stadium), then that's their call."
A source at the Football Federation of Chile told Emol it had been told nothing about quarantine plans for the players.
"So far there are no changes to our plans," a source said. "What the minister says comes as a surprise."
Spain has suspended flights from Italy and also advised against all non-essential travel. It has so far reported 36 deaths and 1,639 confirmed cases. Italy has at least 10,149.
Alexis Sánchez plays for Inter Milan and Vidal plays for FC Barcelona. Another Chilean player likely to be impacted is Gary Medel, who plays for the Italian club Bologna.
Sanchez's team has been playing Serie A matches in empty stadiums after the Italian government banned large gatherings last week. At around the same time, there was a flurry of claims on social media that Sanchez himself may have contracted the coronavirus - reports later explained by a poor translation of a story about Sanchez's team being impacted by the games ban.
Chile is tracking people returning from countries affected by coronavirus in a bid to contain its spread. So far, 17 cases have been confirmed in the South American country.