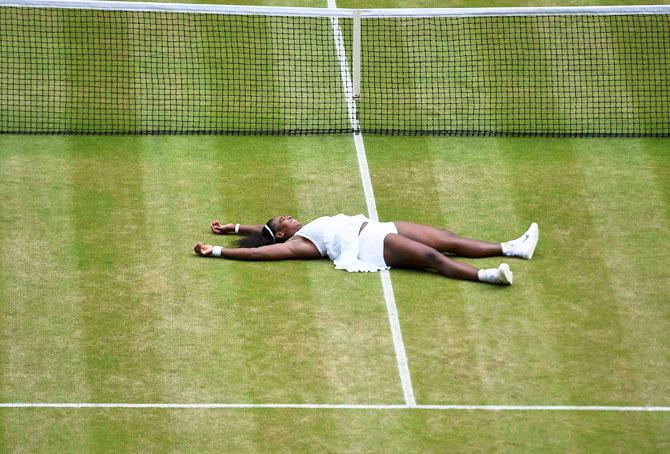 IMAGE: USA's Serena Williams celebrates winning her Wimbledon women's singles final match against Germany's Angelique Kerber on Saturday. Photograph: Andy Rain/Pool/Reuters
Tennis fans -- commoners and celebrities -- took to Twitter to convey their congratulatory messages to newly crowned Wimbledon champion Serena, who claimed a record-equalling 22nd major title with a 7-5, 6-3 victory over Angelique Kerber in Saturday's Wimbledon final.
- Serena avenges Aus Open loss to Kerber and equals Graf's win record
- The indefatigable Serena Williams: Slam number 22 and counting...
One of them was TV personality and actress, Ellen DeGeneres, who tweeted: Congratulations, "@SerenaWilliams! This tweet is just in case you couldn't hear me scream it from the stands. #Wimbledon."
Other celebrities who ensured to post their wishes to Serena were television actress Kerry Washington and Hollywood actor Hugh Jackman.
Washington wrote on her Twitter handle: "#Serena… I bow down. And am simultaneously uplifted."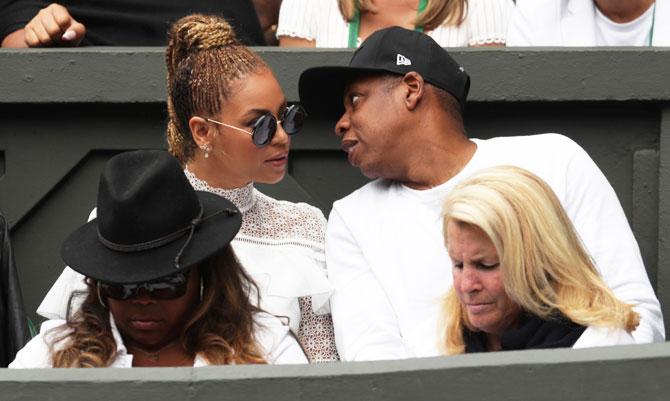 IMAGE: Singer Beyonce with her husband musician Jay Z with Serena Williams's family and friends in the Royal Box on centre court during the women's singles final on Saturday. Photograph: Adam Davy/Pool/Reuters
Wolverine star Jackman wrote: "@serenawilliams v @AngeliqueKerber @Wimbledon Serena = champion! Incredible effort. You're a class act. #22."
There were also Serena's contemporaries and friends from the tennis circuit who took to the micro-blogging site to congratulate Serena.
Novak Djokovic's coach Boris Becker posted: "Well done @serenawilliams making history today with 22 majors but lots of respect to @AngeliqueKerber for her first @Wimbledon final !.
Former World No Caroline Wozniacki also gave a shout out to her friend on the circuit: "Congratulations @serenawilliams for making history today!! #22! Incredible achievement! #wimbledon."
Former US Open champion Kim Clijsters summed up the victory in these many words: "Congratulations to the best ever! Serena Williams ! Amazing achievement."
- Pained' Serena Williams speaks out on Dallas shooting
- Tell us! Is Serena Williams the greatest tennis player of all time?