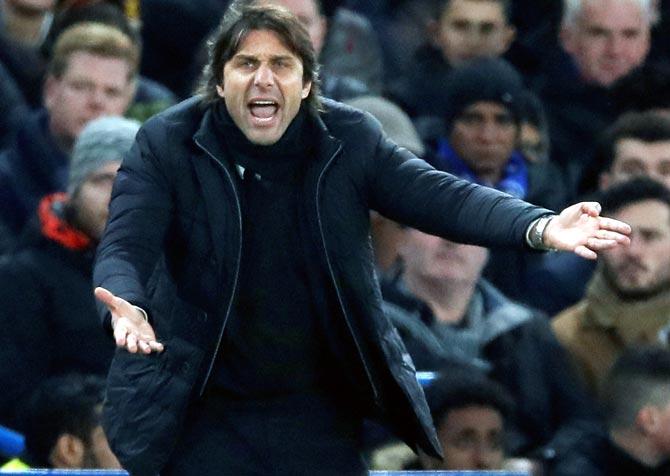 Inter Milan coach Antonio Conte has terminated his contract one year early just days after leading them to their first Serie A title in 11 years, the club said on Wednesday.
Conte, who joined Inter in May 2019, agreed to depart after Italian media reported he had been left unhappy with plans to reduce investment and cut costs due to the financial impact of the COVID-19 pandemic.
"FC Internazionale Milano can confirm that an agreement has been reached with Antonio Conte for the termination of his contract by mutual consent," read a club statement.
"The club would like to thank Antonio for the extraordinary work that he has done, culminating in Inter's 19th top-flight title. Antonio Conte will forever remain a part of our club's history."
The 51-year-old's ambitions to improve his squad were at odds with the club's financial situation, with Inter reportedly looking to slash the wage bill by 15-20% and make 70-100 million euros from player sales before next season.
Sky Italia reported that Conte was not convinced by the plans, which include the possible sale of a key player, and that Inter will hand the coach a severance payment of around 7 million euros ($8.53 million).
Former Juventus manager Massimiliano Allegri and current Lazio coach Simone Inzaghi have been named in Italian media as potential successors.
Inter made the high-profile signings of players like Romelu Lukaku, Christian Eriksen and Achraf Hakimi during Conte's tenure and their arrivals spurred the club to great success.
Conte masterminded a superb domestic campaign for Inter, wrapping up the Serie A title with four games to spare and accumulating 91 points, the second-highest total in the club's history after the 97 they amassed in 2006-07.
Inter finished no higher than fourth for eight years before Conte's arrival.
He made an immediate impact by leading them to the runners-up spot in Serie A and the Europa League in his debut season.
They went one better in 2020-21 as Conte's side blew away the competition domestically to end Juventus' nine-year stranglehold on the league crown.
UEFA fines Ibrahimovic 50,000 euros for links to betting company
European soccer's ruling body UEFA fined AC Milan's Swedish striker Zlatan Ibrahimovic 50,000 euros ($61,000) on Wednesday for breaking the rules by having a financial interest in a betting company.
Milan were also warned and fined 25,000 euros for violating the same article of UEFA's disciplinary regulations.
"The Chairman of the UEFA Appeals Body also issued Mr. Ibrahimovic with a directive aimed at ceasing the player's association with the relevant betting company," UEFA said in a statement.
Swedish newspaper Aftonbladet reported in April that Ibrahimovic, 39, is a part-owner of the Malta-based betting company Bethard who he teamed up with in 2018.
FIFA's Code of Ethics state a player cannot have interests in entities or companies that "promote, broker, arrange or conduct betting, gambling, lotteries or similar events or transactions connected with football matches and competitions".
Ibrahimovic last month signed a one-year contract extension with Milan.
Liverpool say Hillsborough campaigners have been let down again
Liverpool football club said campaigners had been let down again after the acquittal on Wednesday of two ex-policemen and a lawyer charged with perverting the course of justice following the 1989 Hillsborough Stadium disaster.
Ninety-six Liverpool supporters were crushed to death in an over-crowded and fenced-in enclosure at the stadium in Sheffield before an FA Cup semi-final between Liverpool and Nottingham Forest.
The BBC reported that Judge William Davis ruled the men, accused of altering statements, had no case to answer because a non-statutory enquiry was not a "course of public justice" that could be perverted.
Retired former South Yorkshire Police chief superintendent Donald Denton, the force's ex-detective chief inspector Alan Foster, and lawyer Peter Metcalf had denied the charges.
Liverpool issued a statement on the club website http://www.liverpoolfc.com noting the latest developments with 'huge disappointment'.
"While it would not be our place, legally or otherwise, to comment on those proceedings as they pertain to individuals, it is incumbent on us to forcefully point out that the 96 victims, their families, survivors and all those who suffered as a result of the Hillsborough tragedy have continuously been failed in their pursuit for justice," the club said.
"We salute all those who have campaigned for justice. They have been let down yet again.
"We have a situation in which 96 people were unlawfully killed and yet no individual or group has been deemed legally culpable for their deaths."
The Premier League club emphasised that the behaviour of Liverpool fans was not a contributory factor in the disaster -- "a truth for which the bereaved families had to fight for over a quarter of a century".
Police at first blamed the disaster on drunken fans, an explanation always rejected by survivors, relatives of the victims and the wider Liverpool community who spent years fighting to find out what had happened.
Later inquests and an independent inquiry absolved the fans of any responsibility.
Former chief superintendent David Duckenfield, who was in charge of police operations at Hillsborough, was found not guilty of manslaughter in 2019.
Real, Barca and Juve stand firm on Super League
Real Madrid, Barcelona and Juventus released a joint statement on Wednesday saying they would not bow down to pressure from European soccer governing body UEFA to put an end to their attempts to launch a breakaway Super League.
The clubs are the only three of the original 12 to have not distanced themselves from the project following fierce criticism from fans, soccer governing bodies and even governments.
UEFA opened disciplinary proceedings against the three clubs on Tuesday but the teams said they rejected the "insistent coercion" the body has maintained while the matter is still in court.
A Madrid court has asked the European Court of Justice to establish if FIFA and UEFA are breaching EU competition law by preventing clubs from creating a breakaway European Super League.
"This alarming attitude constitutes a flagrant breach of the decision of the courts of justice, which have already made a clear statement warning UEFA to refrain from taking any action that could penalise the founding clubs of the Super League while the legal proceedings are ongoing," the statement read.
"Therefore, the opening of disciplinary proceedings by UEFA is incomprehensible and is a direct attack against the rule of law... while constituting a lack of respect toward the authority of the courts of justice themselves.
"Instead of exploring ways of modernizing football through open dialogue, UEFA expects us to withdraw the ongoing court proceedings that question their monopoly over European football."
The Super League was launched with 12 clubs as founding members but Manchester United, Liverpool, Manchester City, Chelsea, Tottenham Hotspur, Arsenal, AC Milan, Inter Milan and Atletico Madrid have since backed out and reached a deal with UEFA.