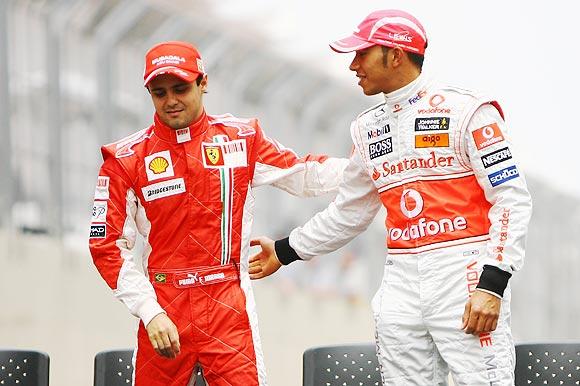 Lawyers for former Formula One driver Felipe Massa have sent preservation notices to Ferrari and ex-Renault team officials ahead of potential court action over the 2008 world championship.
A spokesman for Massa said formal requests for the preservation of any relevant documents were sent on Tuesday and recipients included former Renault F1 team principal Flavio Briatore, that team's ex-technical director Pat Symonds and former sporting manager Steve Nielsen.
Symonds is now chief technical officer of Formula One while Nielsen is sporting director at the governing International Automobile Federation (FIA). Renault currently compete as Alpine.
Renault's then title sponsor ING was also named.
Massa, now 42, is taking legal action over an alleged "conspiracy" that he says denied him the 2008 title.
Britain's seven-times world champion Lewis Hamilton won that championship, his first, by a single point in a year that became notorious after Renault driver Nelson Piquet Jr. revealed in 2009 he had been told by team bosses to crash deliberately at the Singapore Grand Prix.
Massa, who retired in 2017, was leading that race for Ferrari but the crash triggered a safety car that benefited Piquet's double world champion team mate Fernando Alonso, who went on to win.
Massa, who failed to score after a bungled pitstop, claims the race should have been cancelled because the sport's leaders allegedly knew before the end of the 2008 season what had happened but covered it up.
Brazilian lawyer Bernardo Viana told Reuters last week that Formula One and the FIA had been given until mid-October to respond to a Letter Before Claim sent to them on August 15.