'The Sports Minister (Anurag Thakur) should speak out. The Prime Minister should speak out, there should be resignations, and heads should roll immediately.'
The Congress Thursday demanded that Prime Minister Narendra Modi should break his "silence" on the sexual exploitation allegations against BJP MP and Wrestling Federation of India chief Brij Bhushan Sharan Singh, and asked why resignations of those involved have not come in till now.
The opposition party's attack came after star wrestler Vinesh Phogat on Wednesday alleged that Wrestling Federation of India (WFI) president Singh has been sexually exploiting women wrestlers for years, a charge vehemently rejected by the sports administrator.
In a tweet in Hindi, Congress general secretary Priyanka Gandhi Vadra said, "Our players are the pride of the country. They bring laurels to the country by their performance at the world level."
The players have made serious allegations of exploitation against the Wrestling Federation of India and its president and their voices should be heard, she said.
Congress general secretary in-charge communications Jairam Ramesh said, "Kuldeep Sengar, Chinmayanand, father-son duo Vinod Arya and Pulkit Arya... and now this new case! The list of BJP leaders committing atrocities against women is endless."
"Mr PM, was 'Beti Bachao' a warning to save daughters from BJP leaders? India is waiting for an answer," he said on Twitter.
Why are all those who oppress women, members of the BJP, he asked.
"Yesterday, you said that a better environment has been created for sports in the past eight years. Is this the 'better environment', in which even our daughters who bring laurels to the country are unsafe?" Ramesh said.
Inaugurating a sports event in Uttar Pradesh via video conferencing on Wednesday, Modi said, "Many talents remained away from the field. But in the last eight years, the country has left behind this old thinking. Work has been done to create a better environment for sports, so now more children and youths are looking at sports as a career option."
Addressing a press conference at the AICC headquarters here, Congress' media department head Pawan Khera said Singh's resignation should have come on Wednesday itself.
"That should have been the first step. Had it been any other sensitive government, it should have happened immediately. Then, the prime minister should issue a statement and restore the confidence of these families. Our families are conservative, it is a difficult choice to send children to train, fight for the country and win medals," he said.
"The Sports Minister (Anurag Thakur) should speak out. The Prime Minister should speak out, there should be resignations, and heads should roll immediately. This should have happened long back, 24 hours is too long a time. The silence is more shocking than what has happened," Khera said.
What is the hesitation in getting Singh's resignation and in speaking out, he asked.
Khera alleged that there were plenty of examples where the BJP had given protection to those committing atrocities on women.
Phogat, who has been at loggerheads with the WFI since the Tokyo Olympic Games, also claimed that several coaches at the national camp in Lucknow have also exploited women wrestlers, adding that there are a few women at the camp who approached the wrestlers at the behest of the WFI president.
The 28-year-old, however, clarified that she never faced such exploitation but claimed that "one victim" was present at the 'dharna' they began at Jantar Mantar on Wednesday.
Rio Olympic medallist Sakshi Malik, world championship Sarita Mor, Sangeeta Phogat, Anshu Malik, Sonam Malik, Satyawart Malik, Jitender Kinha, Amit Dhankar and CWG medallist Sumit Malik were among 30 wrestlers who assembled at the famous protest site.
Singh, 66, was elected unopposed as president of WFI for a third consecutive term in February 2019. Taking note of the allegations, the sports ministry has sought an explanation from WFI and directed it to furnish a reply within the next 72 hours on the allegations made.
NCP demands resignation of WFI chief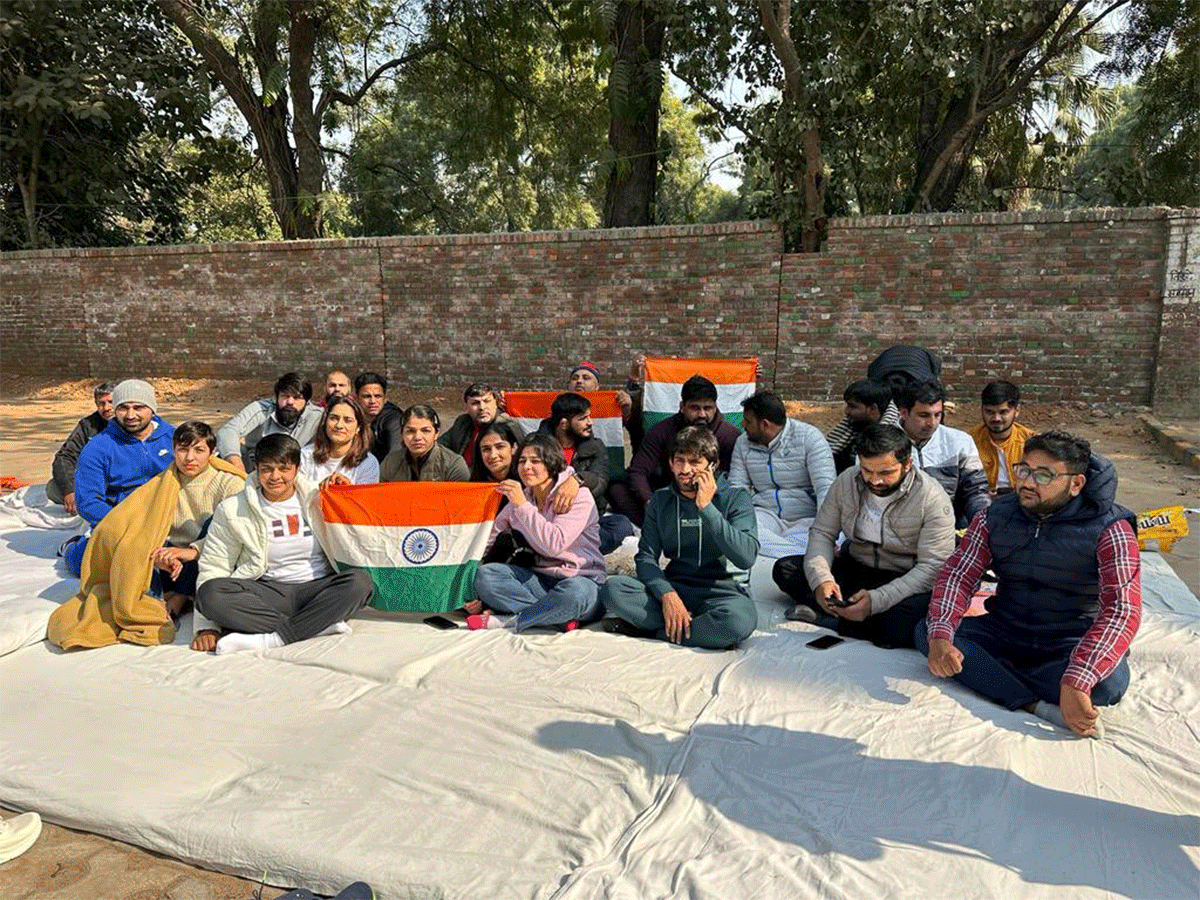 The Nationalist Congress Party on Thursday demanded the resignation of Wresting Federation of India president and BJP MP Brij Bhushan Sharan Singh, who has been accused of sexually exploiting women wrestlers for years, a charge vehemently rejected by the sports administrator.
Top wrestlers Vinesh Phogat, Sakshi Malik, Bajrang Punia and many other grapplers are on a silent sit-in in New Delhi for the second day against WFI and its chief Singh.
"Women wrestlers who have won laurels for our country are protesting at Jantar Mantar in Delhi to seek justice for themselves for all the wrongdoings meted against them by the Wrestling Federation of India," Clyde Crasto, NCP's national spokesperson, said in a statement.
Though the sports ministry has asked WFI to respond to the wrestlers on the allegations levelled by them, it is not enough, said Crasto.
"The President of the Wrestling Federation of India, Brij Bhushan Sharan Singh should also step down, pending enquiry because if he stays and continues in that position, there are chances that he could influence this enquiry," he said.
"Youth Affairs and Sports minister Anurag Thakur must meet these wrestlers at Jantar Mantar, understand their problems, and take necessary steps to solve it," said the statement by Crasto.
"If the government does not take immediate action, it will raise doubts because the person these wrestlers are naming is a member of the BJP," he said.
The NCP spokesperson said the wrestlers have won medals and brought glory to the country. "These are the same ministers and officials who go to receive them, take photo opportunities and bask in their glory," he said.
If the government takes the matter lightly, it will appear that it is trying to protect the BJP MP, Crasto said.
© Copyright 2023 PTI. All rights reserved. Republication or redistribution of PTI content, including by framing or similar means, is expressly prohibited without the prior written consent.