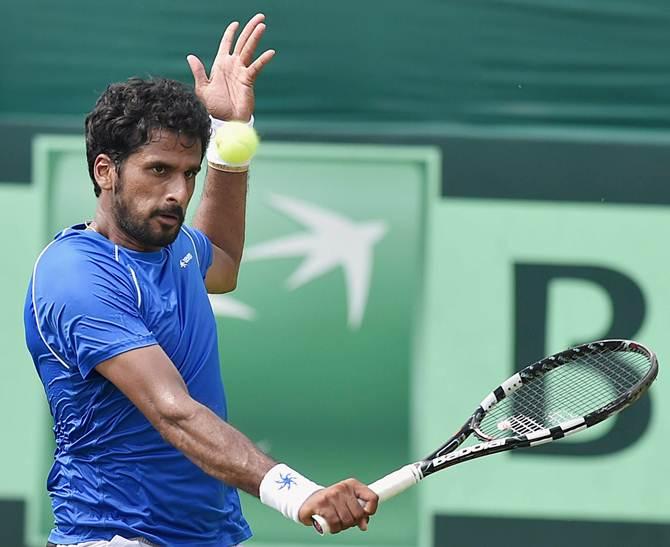 IMAGE: Saketh Myneni in action. Photograph: PTI
Looking back at 2016, Indian Davis Cupper Saketh Myneni said he is very happy with the progress he has made in the last eight to nine months.

"I have made great progress during the last 8-9 months. I have worked really hard on my fitness over the last two years and it has gradually started to pay off," says Saketh as he gears up for the Chennai Open, starting in Chennai, from January 2.

"I feel good about the way things are going so I am working on the smaller things now. Things that will give my game an edge," he added.

The reigning Asian Games mixed doubles gold and men's doubles silver medallist had a highly fruitful 2016 and wants to make the coming year even more special.

"I had a great year, starting with the Australian Open. I had a wonderful hard court season as well. But unfortunately, injuries took a toll by the end of the tour. I have had a good off-season in November and make an early, good start here in Chennai, then the Australian Open and move forward," he said.

Saketh, who has been given a wild card along with Ramkumar Ramanathan for the singles, revealed that even before his sensational run through the US Open qualifiers and the eventual fall in the first round in five sets, he has been focussing on getting better at five-setters.

"I am trying to reach a situation where I can maintain intensity for 2-3 hours. It's very tough but I am trying to work on that, especially the nutrition part," he said.

The World No. 194 believes that he doesn't have to make too many changes to his game or to his approach to get into the top 100.

"You have to trust the system that you have created. Try to follow what you have. If you doubt your own situation, it's not a good thing," he stressed.

The 29-year-old is delighted to be an integral part of the Davis Cup team, playing both the singles and doubles.

"It hasn't really changed my life but I love team sports. If I have the chance I will do anything to help anybody. It comes naturally to me. I want to keep myself in such a space that I am able to come out and play any time my captain asks me to," he said.

Second consecutive evening Davis Cup tie for India

New Delhi: Keeping in mind the fan support, India will have its second consecutive Davis Cup tie in the evening when the hosts challenge New Zealand in the Asia-Oceania Group 1 encounter, starting in Pune, on February 3.

The singles matches on Friday will start at 3pm IST while the doubles rubber is scheduled for 6pm start. The reverse singles on Sunday will again start from 3pm.

During the World Group Play-off tie against Spain in September, the singles had started at 5pm and the doubles at 7pm at the Delhi Lawn Tennis Association stadium.

The players were consulted on the timing even as captain Anand Amritraj was not consulted since the AITA is not sure at that time whether he will continue in the post or not.

"(Tournament Director) Sunder Iyer made this proposal of having matches in the evening so that more fans can come to the stadium and support the Indian team. The players were also asked by selection committee chairman SP Misra. We also asked the ITF. The temperature is not going to make much of a difference, so we gave a green signal to it," AITA Secretary General Hironmoy Chatterjee said.

Outgoing captain Amritraj said he was not consulted on the timing of the tie but it won't make any difference in the outcome of the match.

"February is such month that the timing won't make a huge difference to the outcome of the match. It's not Chennai heat in Pune. But personally, if I was playing, I would have liked to play in the day," Amritraj said adding that he was not consulted before finalising the timing.

Chatterjee asserted that it is All Indian Tennis Association's prerogative to decide on certain matters.

"If we have matches in the evening, even people from Mumbai can come and go back after watching the matches. We want a full house when India play," said another AITA official.

India coach Zeeshan Ali said to cash in on the home advantage, it's a good idea to have matches in the evening.

"In Pune in February, the temperature would not change much at 11am or 3pm. It would be 2-3 degrees more only. There is no advantage in playing during the day in this month. So we can bring in more people in the evening to the stadium," Ali said.

"In a city like Pune, it matters. The city has not had a Davis Cup tie for long. People from close cities can also come and support us if we play in the evening," said Ali.

AITA had sent out letters to players asking them about holding evening matches and most of them readily agreed on it.