Achantha Sharath Kamal and Mouma Das suffered contrasting semi-final defeats in the singles as India rounded up its Commonwealth Table Tennis Championships campaign without a gold medal, in Delhi, on Friday.
At least six of the eight semi-finals, including doubles, featured host players but none of them could make the summit clash as India bagged nine medals, including two silver.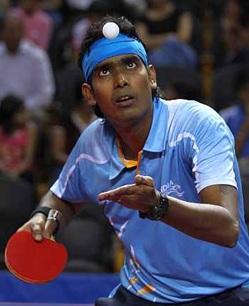 The most disappointing result for the hosts was defending champions Kamal and Subhajit Saha having to settle for bronze following defeat at the hands of inexperienced English pair of Christopher Doran and Samuel Walker in the men's doubles.
The Indian pair failed to match the exuberance and agility of the young English pair and lost 11-4, 8-11, 11-6, 10-12, 7-11.
In the men's singles, Kamal (70) tried hard to match the swiftness of Hu Li, the world No 55 from Singapore, but lost 10-12, 7-11, 13-11, 10-12, 4-11.
The men's singles event saw the top two seeded Singapore players, Jian Zhan (25) and Hu Li (55), battling it out for the title. Jian routed his compatriot 4-0.
Singapore won gold in the women's doubles and men's doubles beating England in the finals of both the competitions.
In the women's semi-finals, Mouma Das and K Shamini were blanked 0-3 by top seed pair of Feng Tianwei and Mengyu Yu of Singapore.
In the other last-four match, India's Madhurika Patkar and Neha Aggarwal lost 1-3 to England's Joanna Parker and Kelly Sibley.