'It's a gift to my father and my mother, my country.'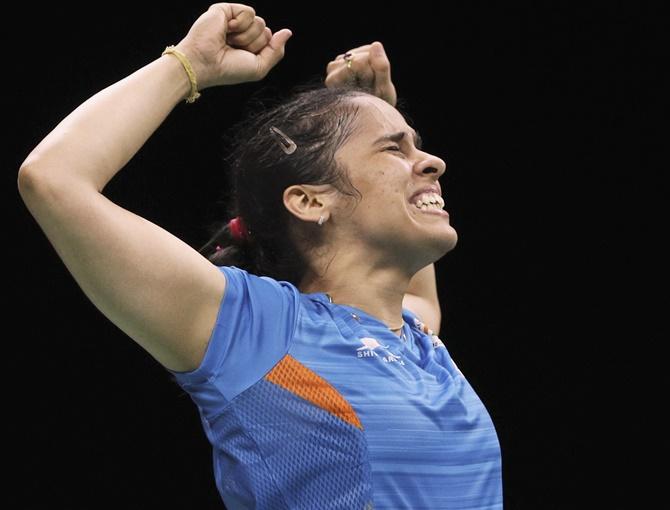 An exhausted mind, a bruised body and an unsavoury controversy -- Saina Nehwal had to contend with quite a bit ahead of and during the Commonwealth Games.
Little wonder then that she placed her singles gold in the event right up there with the trail-blazing Olympic bronze of 2012.
"I really term it as next to my Olympic medal and my world No. 1 ranking. So I would keep it somewhere there.
"It's a gift to my father and my mother, my country. It's a very emotional moment for me after the disappointing loss in Rio due to injury," said second seed Saina, after the 21-18, 23-21 victory over Pusarla Sindhu in the women's singles final at the Commonwealth Games on Sunday.
Saina played all the matches in the mixed team championship before competing in the individual event.
Asked how her legs were holding up after continuous matches in the competition, she replied, "They are dead!"
Saina had a 3-1 head-to-head record over Sindhu going into Sunday's final and ensured that the gap widened with a vintage performance.
"It was a neck and neck game for me; it was even tougher because I have been playing for the last 10-12 days. She is tall, she has longer legs and covers the court better than me; I have to run here and there," said Saina.
"I lost five kgs in the last few months; that helps you move faster," she added.
It was a perfect end to what was an imperfect start, which saw her father being denied access to the Games village despite accreditation.
She threatened to pull out if he wasn't accommodated, which he eventually was, but drew criticism for her stand.
Then, there were the niggles which got aggravated during the team competition.
"The shin problem happened in the team event and I am playing with that," she revealed, when asked about the bandage she was sporting even though it hardly impacted her execution of shots.
"It is not much of a problem; just two-three days of recovery is required. My match against Kirsty Gilmour went on for a long while and probably I aggravated the problem a bit," she said.
Asked if playing Sindhu in a big final like on Sunday was more of a mental battle than anything else, Saina kept it simple.
"You just have to play your game; it's a healthy rivalry, people enjoy it; no doubt, we are under tremendous pressure. But I am happy to be pulling these off. It's not easy to play against someone who is ranked No. 3 in the world now," she said.
"It's a challenging match for me. I would like to thank Gopi sir for pushing me in the last three four months and Christopher, my physio, who is working hard on my body. I was facing a lot of injuries on my shin, ankle and he came up and gave me a very good rehab program which is helping my leg strength," she added.
Even though she claimed the gold with a brilliant performance, Saina said she was not in a particularly good shape.
"... the rallies were going long, she was picking up all the shots well. I am happy that I could pull off the bigger rallies. I have never played two weeks back-to-back, so definitely it is one of my most exhausting campaigns."
It was yet another final loss for Sindhu, who is now being criticised for not being able to pull off high-pressure games.
However, Saina defended her teammate.
"It happens in tough situations; it has happened with me as well. You can't write like that about any player. Today, I fought well. I didn't attack much because my stamina was finishing. I just wanted to finish off rallies. She was doing very well in rallies too."