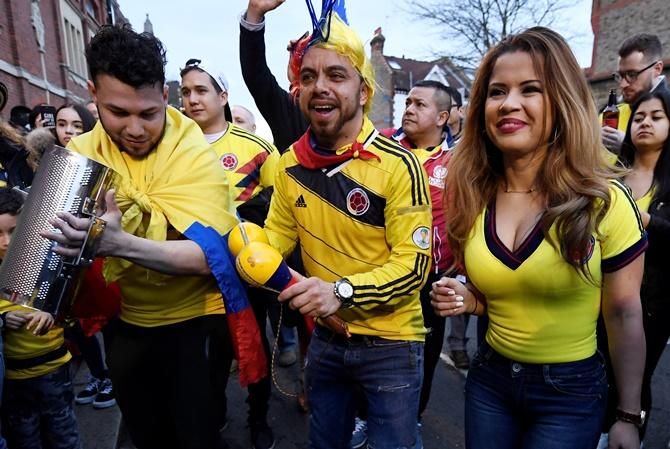 With their straw hats, yellow shirts and appetite for a fiesta, Colombian soccer supporters brought a wave of tropical exuberance to the stolid citizens of Saransk ahead of their team's World Cup opener against Japan on Tuesday.
At the Fan Fest site in central Saransk, they swilled beer and swayed their hips as best they could to the music of a Russian rock band.
One group waved a big Colombian flag and jumped up and down chanting "Vamos, vamos Colombia" ("Let's go").
Local people in the crowd looked on with some bemusement.
The smallest of the World Cup hosts, Saransk is a remote city on the Russian Steppes and the invasion by Colombians, Peruvians, Japanese and others has been something of a shock to the system.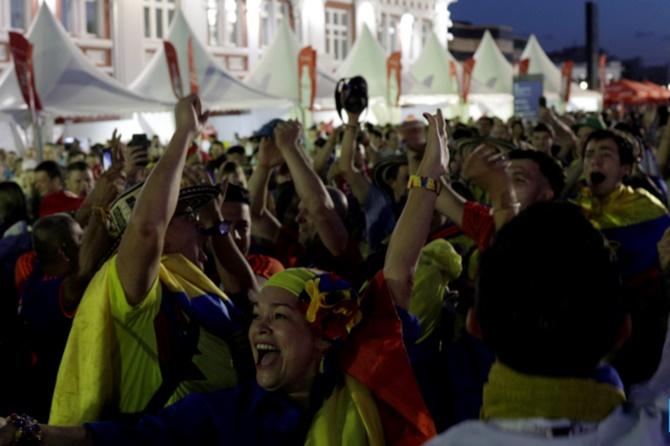 Some bold teenage girls plucked up the courage to ask to pose for photos with Colombians.
"It's a beautiful place, mate. Very kind people. I want marry a Saransk girl," said Luis Castellanos, obliging them.
The 27-year-old studies English in Australia and had travelled through Europe before meeting up with his father and friends for the soccer.
Like many, he was confident of a win over Japan in their opening match and he believes the Cafeteros (Coffee-makers) could go all the way to the final.
Fans said they were sorry but not worried that the team's star player, James Rodriguez, who has spearheaded a revival of Colombia's fortunes on the world soccer stage, might not be fit to play. But they said there was depth in the squad and the name of Juan Quinteros was on many lips.
Castellanos' father Carlos, an environmental official from the town of Cucuta on the Colombia-Venezuela border, also offered his support to fellow Latin Americans Argentina.
"I hope Colombia wins but I am a big Messi fan. I hope Argentina recovers, but they are in a hard group," he said.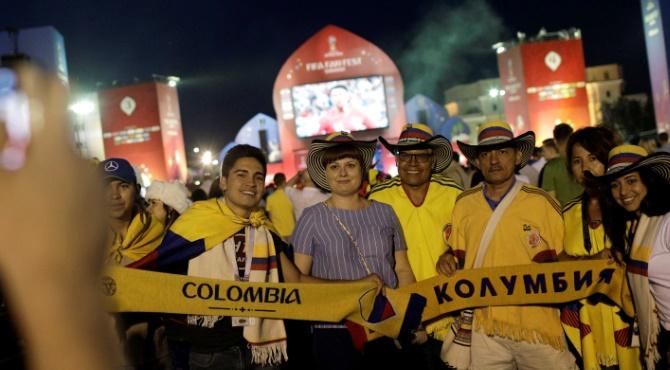 The former world champions could only manage a 1-1 draw in their match against Iceland on Saturday and Lionel Messi missed a penalty.
There was solidarity rather than rivalry among the supporters of all the Latin American teams, said Erika Chacon, a business administrator from Bogota.
"We have pride in all our brothers," she said.
Chacon had reached Saransk via Barcelona and Moscow. She said she had no tickets for Colombia's other games, against Poland in Kazan and Senegal in Samara, but would travel there anyway. "I am here for the fiesta," she said.
It was also a welcome break from politics, she said, when asked about this weekend's presidential election in Colombia.
One Russian man with a wry sense of humour in the crowd was wearing a T-shirt bearing the image of the late Colombian drug baron Pablo Escobar.
Chacon wrinkled her nose in distaste.
"Those are the old days," she said. "This team has given Colombia a new mark in the world."