Impressed by India's performance at the Doha International Tournament, Aussie boxers want exchange programme with India, claims coach Gurbax Singh Sandhu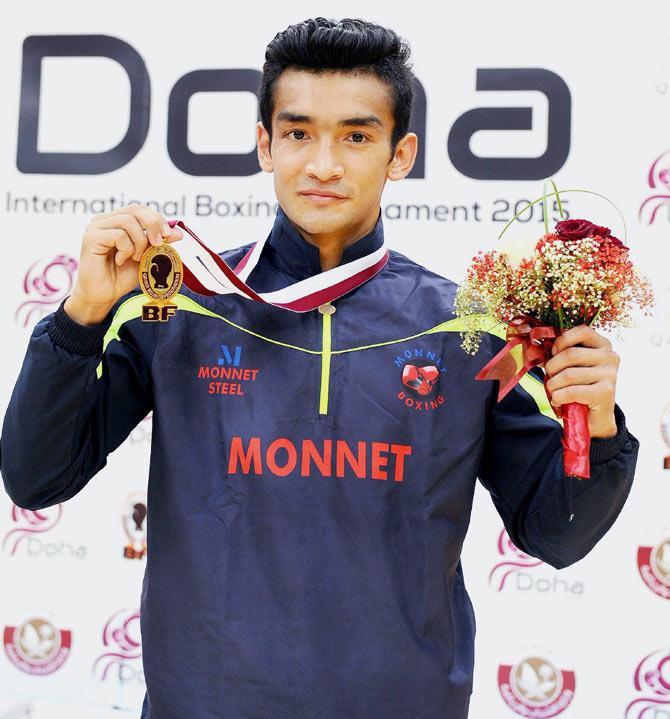 Indian boxer Shiva Thapa showing his gold medal (56kg weight category) during the International Boxing Tournament 2015 organized by Qatar Boxing Federation, at Doha in Qatar on Saturday. Photograph: PTI
The Indian boxers' superlative show in the just-concluded Doha International Tournament was not without its flaws, says national coach Gurbax Singh Sandhu but it was awe-inspiring enough for the Australian contingent to request an exchange programme with the country's pugilists.
The Indians notched up four gold, one silver and two bronze medals to finish on top in the tournament, which was a test event for the October World Championships -- an Olympic qualifying event.
Commonwealth Games medallist L Devendro Singh (49kg), Shiva Thapa (56kg), Manish Kaushik (60kg) and Manoj Kumar (64kg) won the gold medals.
The silver medal went to Gaurav Bidhuri (52kg), while Mandeep Jangra (69kg) and Vikas Krishan (75kg) settled for bronze medals in the 12-team competition.
"It was a very good overall performance but there were some flaws, like I noticed that some of the boxers were tiring out sooner than expected. It was because we have not had too many international competitions in recent past," Sandhu told PTI in an interview after the team returned to the country on Monday.
"However, none of the flaws are beyond correction and they will be worked upon in the camp. The Australians were so impressed by us that they have requested that they be allowed to train in India for sometime and in turn they want to invite us over there for training-cum-competition," he revealed.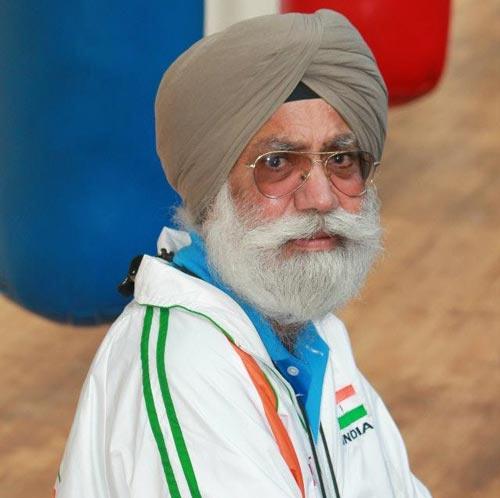 Gurbax Singh Sandhu. Photograph: Hari Shankar Varma (Physiotherapist - Indian national boxing team)
Sandhu said the team's performance could have been a shade better had it got enough exposure and the plan now is to seek out as many tough tournaments as possible before the World Championships.
"We need to be competing more often against tough teams. The size of the draw should be big so that the boxers are tested well. This will enhance our boxers' endurance," Sandhu explained.
"This performance is a huge morale-booster for the boys. Now we plan to have at least one extensive training-cum-competition trip to a tough country before the World Championships. On our radar is Russia, Kazakhstan or Uzbekistan, let's see how things pan out," Sandhu said.
Asked if the Indians are getting any invites given the administrative turmoil which currently grips the national federation -- Boxing India, the coach said it is the performance of the boxers which counts and that has been good enough so far.
"We have got invites from Australia, Croatia and some other countries too. Our boys, wherever they have gone, have done very well and that's what matters for the other countries. They want to train with us for this reason and nothing else matters much," he asserted.
"Overall, I can say that the build-up for the World Championships is going ahead as planned and we are progressing well," he said.