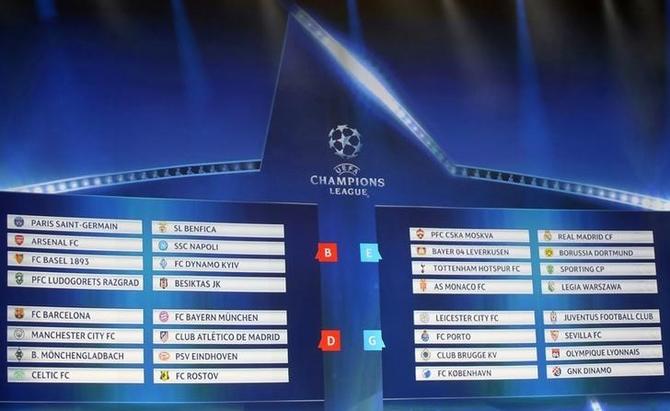 IMAGE: A general view shows the draw for the 2016/2017 UEFA Champions League Cup soccer competition at Monaco's Grimaldi Forum in Monte Carlo. Photograph: Eric Gaillard/Reuters.
European clubs are anticipating another windfall after changes to the Champions League and say the new system will be fairer as well as making them richer.
The European Clubs Association (ECA) said it expected revenue from the Champions League and Europa League to jump from 2.35 billion euros ($2.62 billion) per season to around 3 billion euros from 2018-19, when the changes, announced by UEFA last month, come into force.
ECA chairman Karl-Heinz Rummenigge also ruled out talk of a breakaway Super League in the foreseeable future, saying the clubs wanted to remain united.
European soccer body UEFA has rearranged the slots in the lucrative Champions League group stage in favour of its four top-ranked leagues, guaranteeing them four places each.
It also announced changes in the distribution of revenue among clubs, with more emphasis on their historic sporting results and less on the value of their television market.
The changes left UEFA open to criticism that they had acted in favour of the biggest clubs, thus only increasing the gap between the most powerful and the rest.
But Rummenigge said on Tuesday that the changes, which will apply to European competitions from 2018 to 2021, represented "a good compromise."
"I believe there are no winners and no losers. The new concept is not a revolution, it's just an evolution, and I'm convinced that everyone will benefit," he said.
Rummenigge pointed out that Real Madrid, who won the Champions League last season, got less money from the television market pool than Manchester City, who they eliminated in the semi-finals.
"That was not fair and it has been corrected," he said.
The former West Germany forward said the agreement "keeps the football in Europe united" in the face of talk of a breakaway Super League.
He added the clubs were prepared to sit down next year and to talk to UEFA about the 2021-2014 cycle.
"This is a kind of guarantee that clubs stay united under the umbrella of UEFA," he said.
Rummenigge, the chief executive of Bayern Munich, also pointed out that four places in the Champions League group stage -- down from the current five -- would remain open to the champions of Europe's smallest 40 leagues.
"This is the proof is that every champion in Europe can still be qualified regardless of market," he said.
"Maybe Real Madrid and Bayern Munich are more requested in American or Asian markets but in the future market still we have the sporting qualification."
He added there was no talk of playing matches in the afternoon to benefit television markets outside Europe.
"We never talked about playing in the afternoon to make our Asian friends happy because I believe we have a sensible feeling for the necessity of our European supporters."