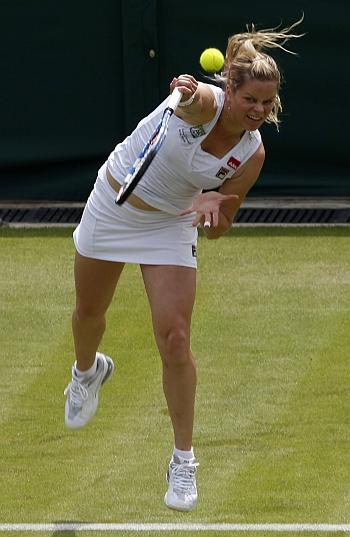 Kim Clijsters won the battle of the Belgians on Monday when she beat Justine Henin 2-6, 6-2, 6-3 for a place in the quarter-finals at Wimbledon.
Clijsters, who last played here in 2006 when she lost to Henin in the semi-finals, edged a close battle against her compatriot, who suffered a fall in the opening set and appeared to damage her right wrist.
After the first two sets were shared in just under an hour, Clijsters made the crucial breakthrough in game eight of the decider and Henin, whose usual fearsome baseline game let her down, had no answer as the eighth seed wrapped up the win when her opponent netted a forehand return.
Clijsters will play 21st seed Vera Zvonareva for a place in the semi-finals.
In the earlier matches, five-times champion Venus Williams had to fight long and hard in blazing sunshine before taking her place in the quarter-finals with a 6-4, 7-6 win over Australia's Jarmila Groth.
Her father Richard, full of admiration for his daughter's grit and determination, said "She had to play like a hell-cat to pull that one off."
Venus, clearly drained after a tougher than expected battle against the lowest ranked woman left in the tournament, agreed, telling her father and coach "That was crazy."
Richard clearly felt a higher power was needed to steer Venus through. Sporting a "Jehovah My God" baseball cap, he kept shouting "Turn it up V" as the ding-dong battle got more and more intense in an intriguing second set.
Jankovic retires
Serbia's Jelena Jankovic became the biggest casualty of the women's singles so far at Wimbledon when she retired at 6-1, 3-0 down to Russian Vera Zvonareva in the fourth round.
The fourth seed received treatment for an injury to her back and looked ill at ease throughout the match in the glorious sunshine on Court 12.
Zvonareva raced to the opening set in 24 minutes and claimed two breaks in the second when Jankovic had a medical timeout. She returned for three more points before strolling to the net and offering her hand after 43 minutes of play.