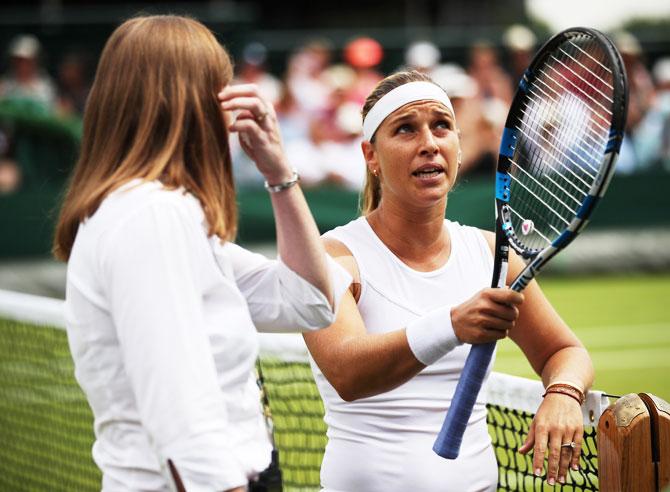 Dominika Cibulkova reached the Wimbledon quarter-finals for the third time but made few friends around Court 18 as she beat Taiwan's Hsieh Su-wei in controversial circumstances on Monday.
The Slovakian eventually won 6-4, 6-1 but the match will be remembered for a ludicrous umpiring decision at a crucial stage of a tight opening set.
Hsieh, who stunned world number one Simona Halep on Saturday, was the victim of a glaring mistake by umpire Zhang Juan which only the umpire and Cibulkova did not seem to notice.
As Hsieh served at 4-5 0-30 Cibulkova pummelled a return deep into court and immediately challenged the linseman's call of out, prompting Hawkeye to show it had indeed been in.
That is when common sense appeared to vacate the court.
The umpire awarded the point to Cibulova even though Hsieh had actually scrambled Cibulkova's return back.
Hsieh argued, correctly, for several minutes that the point should be replayed but the umpire would not budge, being heard to say she could not remember if Hsieh's shot had gone in.
Cibulova could have intervened but spent the entire time standing on the baseline in the advantage court, as if to prepare for a 0-40 situation, even with the crowd chanting "replay the point...replay the point."
When a referee was summoned Cibulkova was called to the net and after further dialogue was told the point would be replayed. Her indignant response hardly endeared her to the crowd who understandably had taken Hsieh's side.
When play finally resumed Hsieh battled back to 30-30 but Cibulkova won the game to take the first set and then powered through the second to book a last-eight clash with fellow power-merchant Jelena Ostapenko of Latvia.
Thirty-third ranked Cibulkova, who has responded to being bumped out of the seedings by Serena Williams' elevation to 25th, was still fighting her corner in a news conference.
"I don't want to talk about it because I would get really upset and angry about that, because it was ridiculous what happened there," Cibulkova told reporters.
"It never happened to me in my career that this would happen. Just a player is complaining. Sometimes I'm also complaining because I think it was a wrong call.
"But it never happened to me that the umpire changed the decision. It was really ridiculous for me."
Asked whether she had some sympathy for Hsieh, who did nothing wrong but stick up for herself and the rules, Cibulkova was adamant it was not the Taiwan player who had been wronged.
"The right decision was, of course, to keep the decision. This happened to me so many times that I had exact the same point, and the point was given to the other player. I had no sympathy because it's just about the chair umpire."