Christophe Lemaitre's name translates as 'the master' and although he was eclipsed in his home race by sprint king Usain Bolt, the Frenchman feels he is getting closer to beating the giant Jamaican.
Lemaitre ran a season's best of 20.21 seconds in finishing second to world and Olympic champion Bolt (20.03) in the 200 metres at Friday's Paris Diamond League meeting, amid the roar of nearly 50,000 fans inside the Stade de France.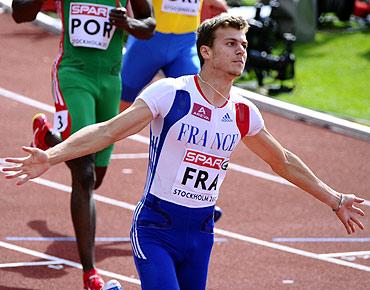 "I'm getting closer to Bolt. Last year I finished way further back than that," he told reporters.
"This shows I'm improving and that I'm imposing myself with the world's best. My next race will be the Monaco meeting (July 22) in the 100m again against Bolt."
Dubbed the fastest white man on the planet, the European champion would have loved to pull off a major shock in front of his adoring public.
"I'm disappointed with not beating the French national record (20.16) and not running under 20 seconds. I perhaps put too much rhythm in the curve, not using big enough steps."
He realistically has little chance of overhauling Bolt in the near future, especially as the Jamaican was knocked off his rhythm slightly by a delayed start and coasted in at 20.03 -- way below his world record of 19.19.
Bolt, who will defend his 200 and 100 titles at the Aug. 27-Sept. 4 world championships in Daegu, South Korea, looked visibly annoyed by the delay when the runners were all in the blocks and he had a quick massage afterwards to counteract any tightness given the tense start and unseasonably chilly conditions.