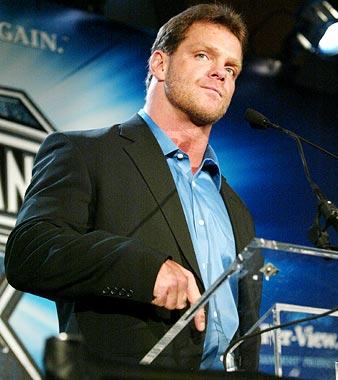 In a major blow to the World Wrestling Entertainment, WWE superstar Chris Benoit was found dead on Monday along with his wife and son at their home in Fayetteville, USA.
The local police said they are investigating the deaths as a murder-suicide, adding that it could only be confirmed after the evidence is examined by a crime lab.
One television station reported that the police believe Benoit, 40, killed his wife Nancy and 7-year-old son Daniel over the weekend, then ended his life on Monday.
The bodies were found in three separate rooms by the police.
Benoit was a former WWE world heavyweight and intercontinental champion. He also held several tag-team titles during his career.
'WWE extends its sincerest thoughts and prayers to the Benoit family's relatives and loved ones in this time of tragedy,' the WWE said on its Web site.
Benoit wrestled for the last time last Friday, June 19, defeating Elijah Burke to be a contender for the vacated WWE championship. He was scheduled to face fellow contender C M Punk, but was absent because of a 'family emergency.' His replacement Johnny Nitro went on to become the world champion.
Photograph: Peter Kramer/Getty Images