Chinese table tennis players will pair up with international rivals for the first time at this week's Korea Open in a bid to improve competition and boost the sport's global growth.
China have won 24 of the 28 gold medals at the Olympics since the sport was introduced at the 1988 Games, sweeping all four titles at the last two Olympics in London and Beijing.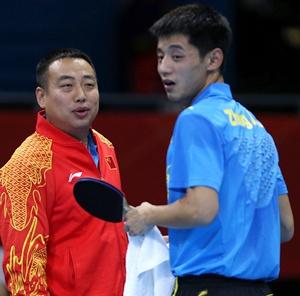 The Korea Open, which started on Wednesday in Incheon, west of Seoul, would feature Chinese players partnering up with rivals from other countries in the men's doubles, the International Table Tennis Federation (ITTF) said.
"This initiative from the Chinese Table Tennis Association (CTTA) is most welcome. It is a great idea that will help make World Tour events even more exciting," ITTF President Adham Sharara said.
"It is also one of the positive steps taken by the CTTA to help the development of players from other countries."
Three of the six pairings will involve left-handed players partnering right-handers, and Chinese head coach Liu Guoliang said it was an exciting prospect.
"The Korea Open will be our first trial of pairing with foreign players. This invitation is open to every country, not just the top ones, as we want to give everyone a chance," Liu said.
"I believe this is good for the growth and development of worldwide table tennis."
Photograph: Feng Li/Getty Images