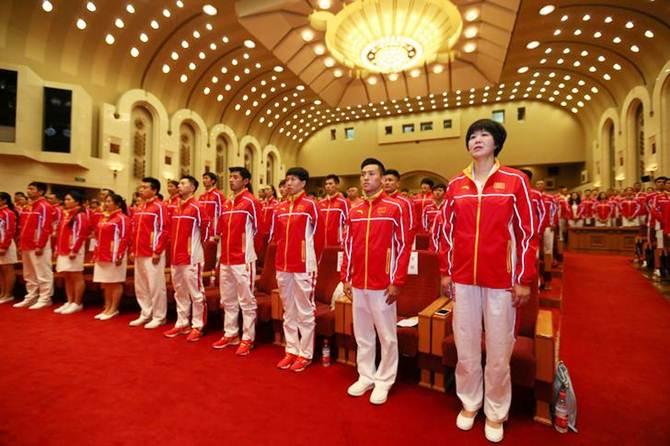 IMAGE: China's athletes for the 2016 Rio Olympics sing the Chinese national anthem during a gathering in Beijing, China, before going to Brazil. Photograph: Reuters
China has asked Olympic-bound athletes and coaches to sign a pledge not to use banned drugs and pass a written test, as it seeks to enforce its zero-tolerance stance on doping, Xinhua news agency reported on Thursday.
Gao Zhidan, vice-director of China's General Administration of Sport who will lead China's 711-member delegation, told Xinhua rule violators would be punished severely, and those who failed the written test -- which requires 80 out of 100 points to pass -- would be barred from travelling to Rio de Janeiro.
"China have been firmly against doping and have a zero-tolerance approach to this particular problem," he said.
"We have made it very clear that we want to ensure fair play and the well-being of athletes."
The country will send 416 athletes to the Games next month, its largest overseas delegation in Olympic history.
Doping has swung into focus ahead of the Rio Olympics after an independent report detailed systematic, state-run doping programme in Russia, leading the International Olympic Committee to consider banning the country entirely from the Games.