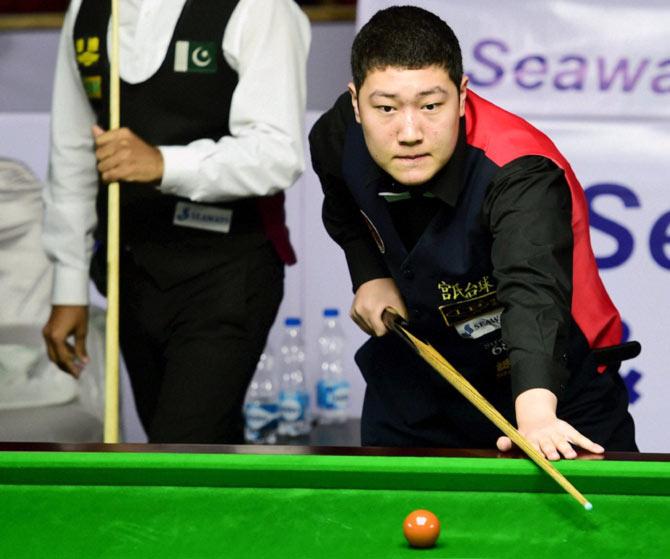 China's Yan Bingtao. Photograph: PTI
China's 14-year-old cue sport sensation Yan Bingtao became the youngest player to pocket the IBSF World Snooker title after edging past Pakistan's Muhammad Sajjad 8-7 in a thrilling final, in Bengaluru, on Saturday.

Playing excellent snooker in front of a packed crowd at at the Sree Kanteerava Indoor Stadium, Bingtao kept his nerves to go better on Belgian player Luca Brecel, who had won the title at 17 years of age.

Leading 4-3 at the end of the first session, Bingtao, who had shocked 12-time world champion Pankaj Advani in the quarter-finals on Friday, made it 6-4 in the second but Pakistan's ace cueist kept coming back.

There was a bit of drama in the 11th frame as Sajjad, trailing by 50 points with three reds on the table, swiftly cleared the table without once looking at the score-board but fate had other plans.

After sinking the last black, he returned to his chair a satisfied man, assuming he had won the frame. But Sajjad was shocked when referee Ravindranath informed him that the scores were actually tied 65-all and the black had to be re-spotted.

Sajjad though potted the black in the top right pocket to win the frame and go ahead 6-5 .

Sajjad then fought back to level scores at 6-6 and took the lead at 7-6. Bingtao levelled at 7-7 and then won the decider to make history.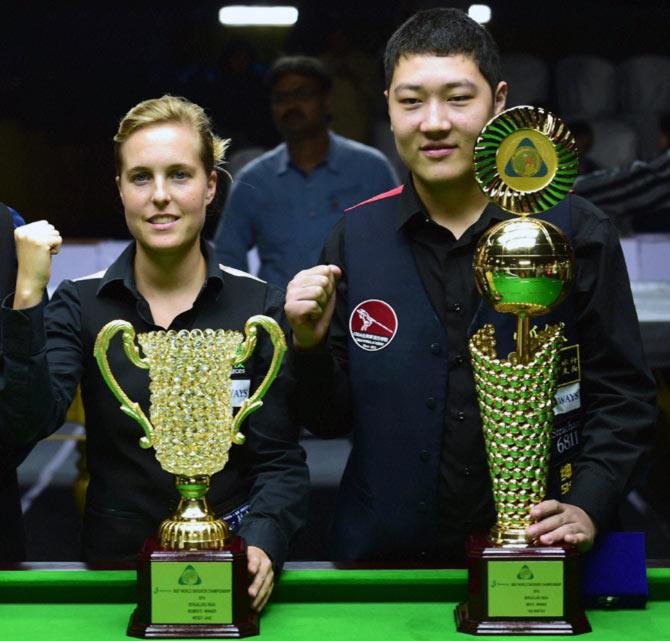 China's Yan Bingtao (right) and Belgium's Wendy Jans pose with their trophies. Photograph: PTI
A 16-year-old Ronnie O'Sullivan had emerged from the battle of Bangalore in 1991, winning the Under-21 snooker title. He went on to become a World Pro snooker champion five times. It is ironic the city has once again provided a platform for another teenager to eye greatness.

Bingtao could have wrapped up the match sooner but at 6-5, he frittered away an easy red pot and Sajjad stormed back to not only bag the frame but threatened to sweep him off his feet.

Resorting to safety play, Sajjad made shot making tough for the teenager. But Bingtao also refused to open up and played the waiting game. Eventually it was Sajjad. who fell into the trap. as he missed a difficult black pot in the 14th game, Bingtao finished it off with a neat effort.

In the final frame too, Sajjad tried to snooker him and the cue ball disturbed the reds off the cushion. Bingtao grabbed the opportunity and complied a break of 60 to finish it off as the crowd gave him a huge applause.

Scores: Yan Bingtao (Chn) bt Muhammad Sajjad (Pak) 8-7 71-59, 16-81, 22-75, 67(61)-53, 77(77)-13, 4-93(79), 63-38, 0-86(73), 76(76)-9, 70-37, 65(60)-72(50), 38-76, 16-107(60), 72-21, 61(60)-15.

Earlier in the day, Belgium's Wendy Jans bagged a hat-trick of women's titles after she defeated Russia's Anastasia Nechaeva 5-2 in the best-of-nine frames final.

Wendy, who had won the title's in 2006, 2012 and 2013, has gone one-up on Reanne Evans of England, who has won the crown thrice.

Wendy won 31-76(44), 72(42)-02, 25-65, 74(40)-35, 72(43)-32, 82(30)-23, 60-31.

In the Masters draw, Phisit Chandsri of Thailand won four of the last five frames to defeat Darren Morgan of Wales in the title clash.

Phisit won 67-59, 73-15, 25-64, 18-55, 16-71, 30-58, 81(49)-29, 65-44, 57-28, 7-64(63), 72(58)-34.

It was Darren, winner of the men's IBSF title in the city in 1987, who led 4-3 in the first session. But after the break, it was the Thailand player who bounced back in style.