The continuing wait for his Major League Soccer debut despite being with the Kansas City Wizards for four months has left Indian striker Sunil Chhetri frustrated.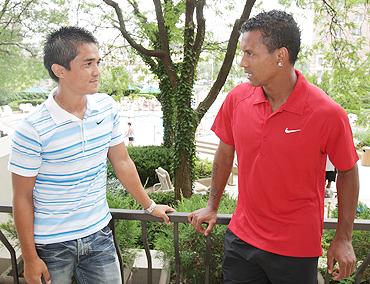 Though he was fielded against Manchester United in an international friendly on Sunday, Chhetri is yet to make the 18-man roster since joining the KC Wizards in late March.
He, however, made his club debut on April 13 when he played the first half of a Lamar Hunt US Open Cup game against the Colorado Rapids.
His move to MLS hasn't exactly gone according to plan since then and he has struggled to adapt to the pace and physicality of the game in the United States, according to mlssoccer.com.
"There are times when I think it's just not happening, and I should move on and think of different alternatives," Chhetri said.
"But then it's a kind of challenge for me. Everyone looks up to me in my country, and there is a point to prove for myself. I came here to learn, and I think I can learn more over here. That really motivates me," he was quoted as saying by the website.
"It's been three months that I have been here working a lot and trying to understand the kind of game we play in Kansas City. It's been difficult because I am not used to all the things that happen over here, but I am trying to do my best to acclimatize," said Chhetri, only the third Indian to ply trade in a foreign professional league.
KC Wizards manager Peter Vermes was well aware that the diminutive striker possesses powerful offensive instincts but felt there is need to work more in certain areas to field him in the MLS.
The technical staff was still trying to help Chhetri refine his contributions on the defensive side of the ball and deal with larger, more powerful players while building the physical level required to accomplish that.
"Let's face it, the reason why he's here is because he wants to play," Vermes said. "There is a frustration level when he doesn't get to play every week. I will say that he's handled it pretty well. I know that there are some weeks where he is more up and others when he is a little down. That's part of being a player," Vermes said.
There are also reports that Chhetri could leave KC Wizards and join his national team-mates camping in Portugal now but it could not be confirmed from the All India Football Federation officials.
Chhetri, who has been nominated by the AIFF for this year's Arjuna Award, made a low-key appearance in KC Wizards surprise 2-1 victory over Manchester United at Kansas City on Sunday.
He is the second player after national captain Bhaichung Bhutia to play against Manchester United. Bhutia played against the Red Devils in 2001 when he was with English Championships side FC Bury.