Five-time World champion Viswanathan Anand made it to the second round but not without fumbling a little against Malaysia's International Master Li Tian Yeoh.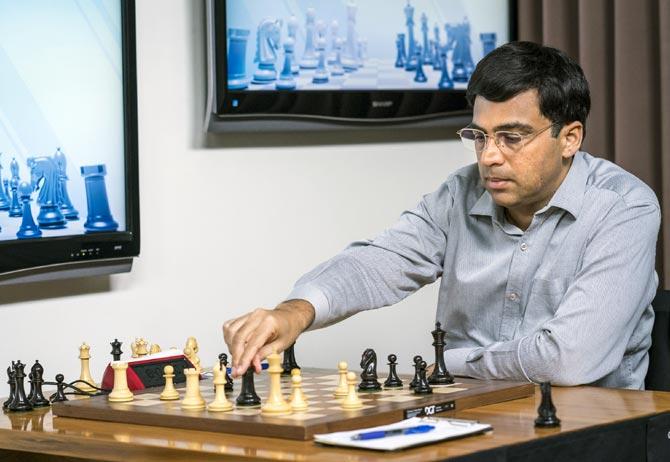 IMAGE: Viswanathan Anand in action during the Sinquefield Cup 2017. Photograph, Courtesy: Sinquefield Cup 2017/Grand Chess Tour
Grandmaster and former Asian champion S P Sethuraman has knocked out former FIDE champion Ruslan Ponomariov of Ukraine in a big first round upset at the Chess World Cup in Tbilisi, Georgia.

After drawing the first game with black, Sethuraman was a man on a mission and played some fine attacking chess to find the higher ranked Ukrainian on the wrong foot.

The victory gave Sethuraman an entry in to the second round of this knockout event that double up as part of the next World Championship cycle.

Five-time World champion Viswanathan Anand made it to the second round but not without fumbling a little. Up against Malaysia's International Master Li Tian Yeoh, Anand started the second game with a one point lead but some lacklustre play in the middle game saw the tide go against the Indian ace.

However, Yeoh failed to make most of his chances and though he had an extra pawn, Anand came back to draw the game and win the mini-match by a 1.5-0.5 margin.

Vidit Gujrathi, who recently became only the fourth Indian ever after Anand, K Sasikiran and P Harikrishna to enter the 2700 ELO rating club, made his black pieces count as he scored a fine victory over N Delgado Ramirez of Paraguay to also win by 1.5-0.5 margin and secure passage to the round of 64 in this 128-player event.

There was more good news from Indian perspective as Pentala Harikrishna bounced back against Vidal Gonzales of Cuba to level score after a first round defeat. Hari will next play the tie-break games of shorter duration to decide the winner in this contest.

Young Grandmaster Murali Karthikeyan also scored a big victory over Francisco Vallejo Pons of Spain to reach the tiebreak while B Adhiban will be the other Indian who will also decide his fate in the tie-break games.

Adhiban played his second draw on the trot with Nguyen Ngoc Troung Son of Vietnam.

Grandmaster Deep Sengupta is the only Indian as yet to bow out in the first round after he suffered a loss at the hands of Wang Hao of China.

Meanwhile, after a surprise decision to play in the World Cup as a World champion, Magnus Carlsen of Norway had an easy passage to the next round disposing off O Balogun of Nigeria.

The biggest upset was recorded by Alexander Lenderman of US who ousted highly regarded Ukrainian Pavel Eljanov 2-0.

Each round in the World Cup consists of two classical games except the final that has four games. Each player plays one game with white and one with black in normal time control and in case of a tied result, rapid, blitz and a final Armageddon games is played to determine the winner.

Besides, the top two finishers will qualify for the 2018 Candidates' Tournament.

Important and Indian results after Game 2 of Round 1: (Indians unless stated)

Li Tian Yeoh (Mal) lost to V Anand 0.5-1.5; Magnus Carlsen (Nor) beat O Balogun (Nig) 2-0; Alexei Dreev (Rus) beat Axel Bachmann (Par) 2-0; A Fier (Bra) drew with Etienne Bacrot (Fra) 1-1 goes to tiebreak; IM Khusenkhojaev (Taj) lost to Maxiem Vachier-Lagrave (Fra); Pavel Eljanov (Ukr) lost to Alexander Lenderman (Usa) 0-2; Dai Changren lost to Vladimir Kramnik (Rus) 0.5-1.5; Anish Giri (Ned) beat Nana Dzagnidze (Geo) 1.5-0.5; Vidal Gonzalez (Cub) drew with P Harikrishna 1-1, goes to tiebreak; Ruslan Ponomariov (Ukr) lost to S P Sethuraman 0.5-1.5; Levon Aronian(Arm) beat Daniel Cawdery (Rsa) 2-0; Kacper Piorun (Pol) lost to Yifan Hou (Chn) 0.5-1.5; Francisco Vallejo Pons (Esp) drew with Murali Karthikeyan 1-1, goes to tiebreak; Nguyen Ngoc Troung Son (Vie) drew with B Adhiban 1-1, goes to tiebreak; Deep Sengupta lost to Wang Hao (Chn) 0.5-1.5; Vidit Gujrathi beat N Delgado Ramirez (Par).