Harikrishna wins against Ian in Moscow FIDE Grand Prix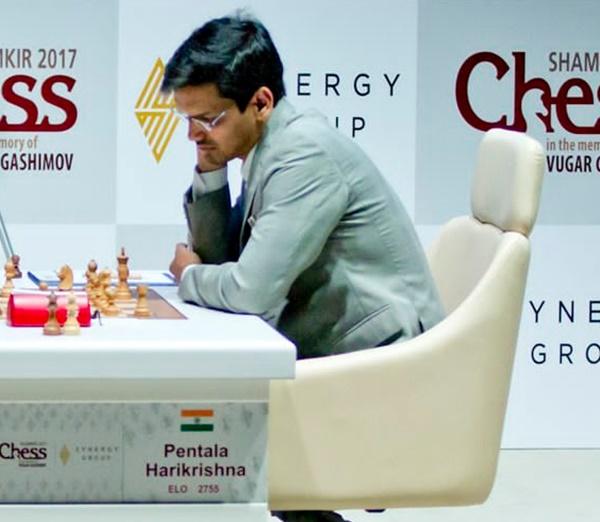 IMAGE: Pentala Harikrishna in action. Photograph: Twitter
Indian Grand Master Pentala Harikrishna beat Russian GM Ian Nepomniachtchi in his eighth round tie in the Moscow FIDE Grand Prix in Moscow.
The World No 16 Indian, playing with black pieces, was pushed on to his backfoot in the initial stages of the game but capitalised on his opponent's mistake to restore balance into the game held on Saturday.
"It was a very complicated game. White was better after the opening, but then Ian made a mistake and gave me an opportunity to equalise positions," Harikrishna said.
With time running out due to time control, Harikrishna remained patient as the Russian kept him under pressure as he went all out for the win.
The Hyderabadi baited his opponent and rolled him in as soon as he committed a mistake to take the game away from him.
"Coming to time control Ian continued to play for a win, but this led into a better position for me. I played the correct moves and brought my King over the whole board to c1, to claim the victory," he further added.
After claiming his second victory of the tournament, Harikrishna climbs up to 12th position on the table amassing a total of four points.
Vaishali wins gold in Asian Blitz Championship
India's R Vaishali won the women's title with eight points from nine rounds in the Asian Continental Blitz Chess Championship in Chengdu, China.
She was at her best in the Blitz event and won seven games and posted two draws in the nine-round event.
Vaishali drew her final round game against Uurtsaikh Uuriintuya of Mongolia to finish half-a-point ahead of Iran's Sarasdat Khademalsharieh and clinch the gold medal.
Her compatriot Padmini Rout finished third with seven points after a last round win over Yuxin Song of China.
The other Indians, however, couldn't make much of an impression with Soumya Swaminathan (5.5 points) taking the 12th spot and Mary Ann Gomes, who finished fourth in the classical format, settled for the 16th spot.
In the open section, Tamil Nadu's Vr Aravind Chithambaram finished fourth with a tally of seven points. He won six games, drew two and lost one.