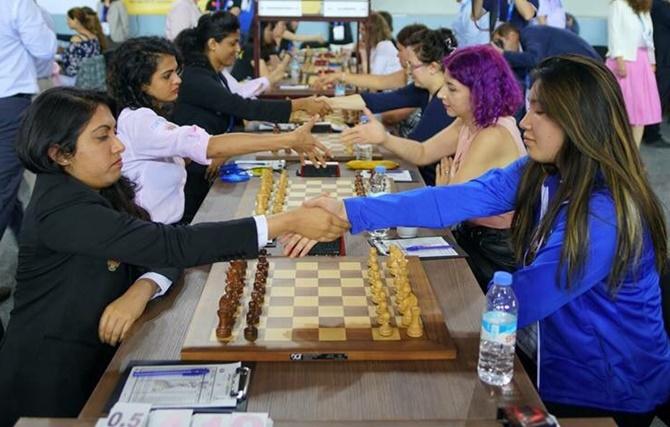 Krishnan Sasikiran guided Indian men to a 2.5-1.5 win over Czech Republic but the women's team suffered a shocking 1-3 defeat against Hungary in the eighth round of the 43rd chess Olympiad, in Batumi, on Tuesday.
On a day when Indian think-tank decided to rest P Harikrishna, the best Indian performer so far, Viswanathan Anand was held to an easy draw by David Navarra, Vidit Gujrathi tried hard before splitting points with Viktor Laznicka on the second board and B Adhiban also drew with Hracek Zbynek on the third board in the first game.
However, the decision to rest Harikrishna was justified by Sasikiran who played a crushing game to outwit Ziri Stocek on the fourth board.
With 13 points in their kitty now, the Indian men assured themselves of a joint third place with three rounds still to come in the biggest chess event.
The United States are likely to be the sole leader as they cruised to a 2.5-1.5 victory over Azerbaijan while Poland stands third following a 2-2 draw with Armenia.
In the women's section, India suffered a major setback as in-form Koneru Humpy and Tania Sachdev both lost to Hoang Thang Trang and Ticia Gara of Hungary respectively.
The Indian women could only manage draws on the remaining two boards where D Harika and Eesha Karavade played with white pieces translating into a painful defeat.
The loss left Indian women on 11 points with a lot of catching up to do in the remaining rounds.
Indian Results after round 8:
Open: India (13) beat Czech Republic (11) 2.5-1.5 (David Navarra drew with V Anand, Vidit Gujrathi drew with Viktor Laznicka, Hracek Zbynek drew with B Adhiban, Krishnan Sasikiran beat Ziri Stocek.
Women: Hungary (13) beat India (11): Hoang Thang Trang beat Koneru Humpy, D Harika drew with Anita Gara, Ticia Gara beat Tania Sachdev; Eesha Karavade drew with J Terbe.