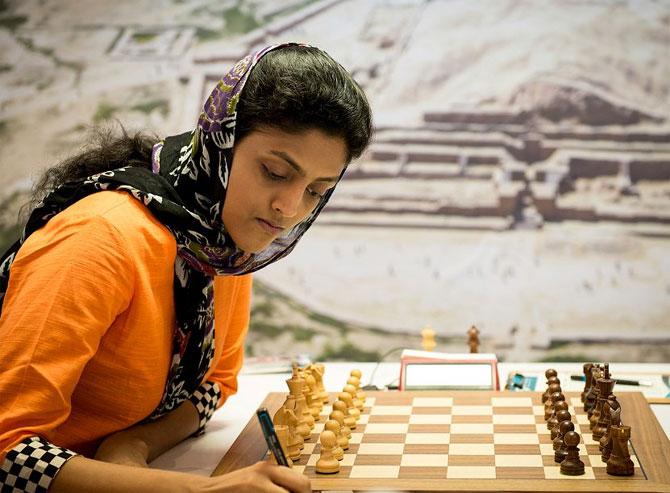 IMAGE: D Harika. Photograph: FIDE World Women's Chess Championship
Indian Grandmaster Harika Dronavalli overcame a strong challenge from the table topper of the tournament Baadur Jobava to play out a hard-fought draw in Round 4 of TePe Sigeman & Co. Chess tournament in Malmo, Sweden.
World No. 10 Indian, playing with black pieces, had to be at her defensive best to avoid conceding the game.
"I started the game quite well but played a miscalculated move which gave away my opponent the edge," Harika said after her match on Saturday.
"I got into a good position in the dying moments of the game but couldn't convert and settled for a draw," she added.
With one more round to go and three crucial draws and a loss, Harika still remains in contention for winning the tournament.
She will take on English Grandmaster Nigel Short in her last game of the competition.
Harikrishna holds Francisco in 2nd round of Moscow GP
Indian Grand Master P Harikrishna played out a thrilling draw against Spanish GM Francisco Vallejo Pons in the second round of the Moscow FIDE Grand Prix 2017 in Moscow.
The World No.16 Indian, playing with black pieces, was surprisingly put on the back foot in the 11th move of the game.
"I was surprised with my opponent's move with b3 as it was very simple, yet very interesting and gave him an edge over me because of my double pawns and more active pieces," Harikrishna said after the match.
However, the Hyderabadi did not lose hope after being pushed into a tough position and had to be at his defensive best to stave off the challenge from his Spanish counterpart in a game that lasted for 82 moves.
"After being pushed back initially, I played a few inaccurate moves and had to defend the game from thereon which I eventually did," he added.
At the end of day two, Harikrishna now has one point after two rounds in this nine-round Swiss tournament which offers an illustrious prize money of 130,000 euros.
© Copyright 2021 PTI. All rights reserved. Republication or redistribution of PTI content, including by framing or similar means, is expressly prohibited without the prior written consent.