In a tragic end to the Sao Paulo leg of the 4th final Masters tournament, Grandmaster Vassily Ivanchuk of Ukraine was robbed at gun point and lost his luggage and valuable belongings enroute to the airport in Sao Paulo, Brazil.
According to the reports, Ivanchuk, who leads the super-tournament ahead of World champion Viswanathan Anand and World No 1 Magnus Carlsen of Norway at the half-way stage, was around 20 meters outside his hotel boarding a taxi when the incident happened.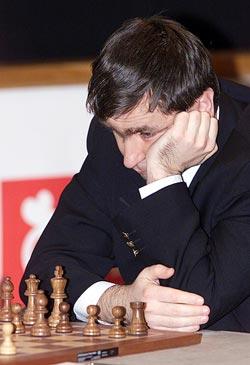 Speculations are rife that given the publicity the event has got in the past one week, this was not a random act.
The Ukrainian was accompanied by his wife, Oksana, at the time of the incident and among other things her passport was also stolen making her presence almost impossible in the Bilbao leg of the competition that starts on Thursday.
Both Ivanchuk and his wife boarded the flight to Munich in Germany from where his wife would now head home while Ivanchuk will move to Bilbao.
In yet unconfirmed reports, Ivanchuk has threatened to abandon the tournament if his wife is not present with him during the final leg at Bilbao. It remains to be seen whether Oksana will be able to make it to Bilbao in time.
As things stand, Ivanchuk leads the event with ten points in the soccer-like scoring system with five games still to be played at Bilbao. Hikaru Nakamura of United States holds the second spot on seven points while 2800 rating club members Anand, Carlsen and Levon Aronian of Armenia share the third spot on six points each.
Spaniard Francisco Vallejo Pons is last with three points in the double round-robin event.
In the sixth round on Thursday, Ivanchuk is slated to play Nakamura who tweeted that perhaps they could postpone their game to the rest day on 9th October.