'We can't meet the commercial demands of the IMG'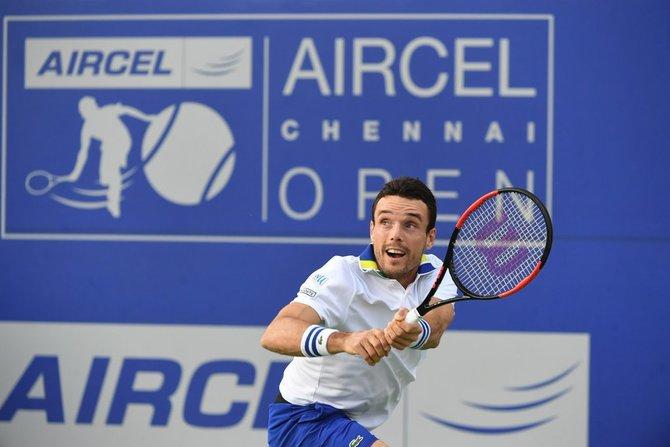 IMAGE: Spain's Roberto Bautista Agut plays a return during Chennai Open. Photograph: Chennai Open/Twitter
Unable to meet the 'commercial demands' of the main organisers, IMG, Chennai Open is set to move out of the city after 21 years and Pune is likely to host
India's only ATP World Tour event from next year.
Tamil Nadu Tennis Association (TNTA) Secretary General CBN Reddy said they will make an official announcement on the development on Thursday but another official, who did not wish to be named, confirmed that the event is moving out of city.
"We can't meet the commercial demands of the IMG," said the official on the condition of anonymity adding without elaborating.
The reason is surprising since the Tamil Nadu government has been supporting the event for long and IMG had even extended the contract with TNTA for three more years recently.
"But it's not a setback. We are premier state association and will remain," the TNTA official asserted.
It has been learnt that IMG, the owners of the tournament, were considering to take the event out of the country but is likely to settle for Pune as the next hosts.
IMG officials could not contacted for comment.
The state associations of Karnataka and Gujarat were also
in the race but Maharashtra State Lawn Tennis Association (MSLTA) has emerged favourites to win the bid as the state government has passed a resolution to support the event.
Chennai has been hosting the event since 1996 and legends such as Rafael Nadal have been part of the tournament, which is organised in the lead up to the Australian Open.
MSLTA officials did not deny or confirm the development but sources in the association claim that Pune is going to be the next host of the tournament.
"IMG were considering Singapore as one of the possible venues but we wanted to keep it in India, keeping the interest of the Indian players in mind. It is India's event and it should remain in the country," the source said.
MSLTA has been successfully hosting a $ 50,000 Challenger event since 2014 and the tennis facility at the Balewadi Sports Complex is well-equipped to host an ATP 250 event.
AITA Secretary General Hironmoy Chatterjee said, "The tournament is IMG's property and they have every right to host it where they find it more lucrative."
India have been struggling badly to host even ATP Challenger tournaments. This year Delhi Open has not been held so far despite AITA promising to host the event.
The Sports Ministry recently snubbed AITA but refusing to sponsor ITF and ATP tournaments, saying it was Federation's responsibility to raise funds and organise tournaments.