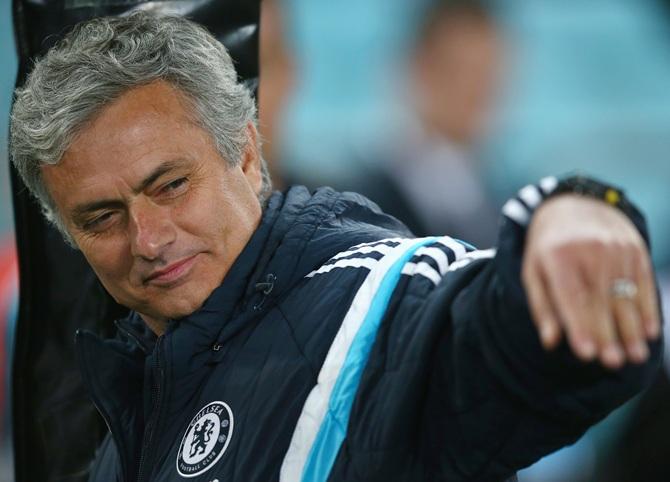 Chelsea manager Jose Mourinho gestures. Photograph: Mark Kolbe/Getty Images
Chelsea begin their Premier League title defence against Swansea City on Saturday in the unusual position of heading into a new season having been significantly outspent by their rivals.
Retaining the title will be tougher for Chelsea, feels Mourinho
Jose Mourinho's side had paid lavish sums to bolster key areas by this time last year but, having claimed the title at a canter, the motto of this transfer window seems to be: if it ain't broke, don't fix it.
The club's marquee signing of the close season has been a loan deal for Colombia forward Radamel Falcao, who, like seven-million-pound ($10.91-million) goalkeeper Asmir Begovic, is likely to feature only as a back-up in the coming campaign.
Their spendthrift summer contrasts markedly with previous years when owner Roman Abramovich has spent freely building a squad that is estimated to be worth around 400 million pounds according to the statistics website transfermarkt.co.uk.
Their habitual rivals have not been shy about bringing out the chequebook.
ManchesterCity, who finished second and start their season at West Bromwich Albion on Monday, broke the bank to bring Raheem Sterling to the club from Liverpool in a deal worth up to 49 million pounds.
Manchester United, who host Tottenham Hotspur on Saturday, have spent in the region of 70 million on four players, while Liverpool, whose campaign begins at Stoke City on Sunday, have forked out nearly 80 million, principally on Christian Benteke from Aston Villa and Roberto Firmino from Hoffenheim.
Arsenal, who beat Chelsea in the curtain-raising Community Shield last weekend and host West Ham United on Sunday, are the only potential title challengers who have not spent heavily so far.
Yet they have stolen a psychological march on Mourinho's side by signing their keeper Petr Cech, who played second fiddle at StamfordBridge last season, to fill a long-time problem position.
Not that Chelsea are feeling the pressure. If anything, Mourinho's show of confidence in his squad has merely added to their sense of self-belief if you listen to captain John Terry.
"The players are mentally and physically ready but it's going to be tough, other teams have strengthened, we have seen the players they have brought in and spent a lot of money," he told Sky Sports.
"Other teams needed to strengthen, we were that much better than other teams last year that maybe we've forced their hands a little bit. The manager feels we have a good enough and big enough squad to deal with it and we'll give it a good fight."
Bournemouth embark on the first top-flight campaign in their 116-year history at home to Aston Villa on Saturday, while fellow newcomers NorwichCity host CrystalPalace and Watford visit Everton.