Beat lockdown boredom! Check out our not-so-tough sports quiz!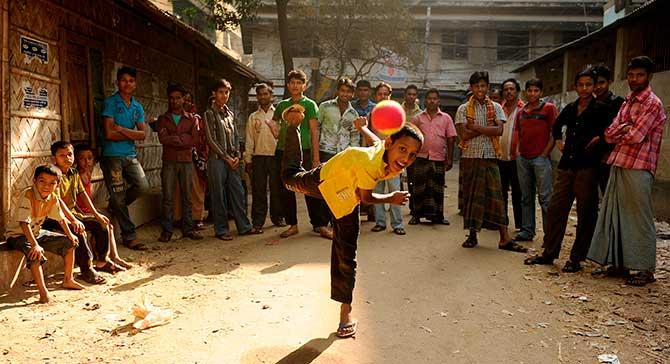 It is a tough time for all of us.
We salute the hundreds of doctors, nurses, other medical staff, municipal workers, policemen on the frontlines of the war against coronavirus.
In the security of our homes, we also fret about not having much to do these days.
Fret not!
Take a crack at our not-so-tough sports quiz...
Just click on the right option. Ready, steady, go:
Compiled by Norma Godinho/Rediff.com
1.
Liverpool FC beat AC Milan 3-2 to win the 2005 UEFA Champions League title. Both teams were locked at 2-2 in penalties before Liverpool goalkeeper Jerzy Dudek kept out this AC Milan striker's effort to win the title.
Who was the AC Milan player who missed the final penalty?
1. Andriy Shevchenko
2. Andrea Pirlo
3. Kaka
2.
This tennis great reached the Wimbledon men's final seven times in ten years, winning the prestigious Major three times. He finished his career with six Grand Slam titles and was inducted into the International Tennis Hall of Fame in 2003. Who is he?
1. Stefan Edberg
2. Andre Agassi
3. Boris Becker
3.
The 1997 Ashes Test between England and Australia at Old Trafford saw Steve Waugh make centuries in both innings of that Test. What was so special about Waugh's twin tons?
1. Feat achieved first time by a No 5 batsman
2. A century in both innings in an Ashes Test in 50 years
3. Most centuries by an Australian in an Ashes Test
2. A century in both innings in an Ashes Test in 50 years.
4.
He is a five-time ICC umpire of the year and recently became a published author. This Australian was one of the two main officials who was on the Sri Lankan team bus that was attacked by terrorists before the Test match between Pakistan and Sri Lanka in Lahore in 2009. Name the umpire.
1. Darrl Harper
2. Darrell Hair
3. Simon Taufel
5.
The basketball legend was recently inducted into the 2020 Hall of Fame. He played 20 seasons for the LA Lakers before retiring in 2016. He was the youngest ever to start in an NBA Game. Name this NBA legend.
1. Wendell Ladner
2. Kobe Bryant
3. Reggie Lewis
6.
The Rohit Sharma-led Mumbai Indians won their fourth IPL title defeating defending Chennai Super Kings by one run in 2019. Name the bowler whose tight last over helped Mumbai clinch the title?
1. Deepak Chahar
2. Lasith Malinga
3. Hardik Pandya
7.
In this infamous Karachi Test in 2000, England chased down 176 in 44 overs in near darkness to record a first series win in Pakistan.
Umpire Steve Bucknor allowed the match to continue even as the Pakistan captain called for bad light and employed delaying tactics.
Name the Pakistan captain?
1. Wasim Akram
2. Moin Khan
3. Inzamam-ul Haq
8.
When Sri Lanka won the 1996 cricket World Cup, they had players who stood out throughout the tournament. One player did particularly well with both bat and ball in the final -- picking three wickets and scoring a century. Who was he?
1. Aravinda De Silva
2. Sanath Jayasuriya
3. Marvan Attapattu
9.
The Mithali Raj-captained Indian women's team lost the 2017 women's ICC World Cup final by 9 runs. Whom did they lose to?
1. Australia
2. Pakistan
3. England
10.
The 2015 World Cup final was a low-scoring affair with Australia dismissing New Zealand for a paltry 183. The hosts overhauled the target (186/3) in 33.1 overs.
Which batsman top scored for the Aussies in their chase?
1. Michael Clarke
2. Steve Smith
3. Aaron Finch