Following is the schedule of the Indian contingent on the 11th day of the Asian Games in Jakarta on Wednesday.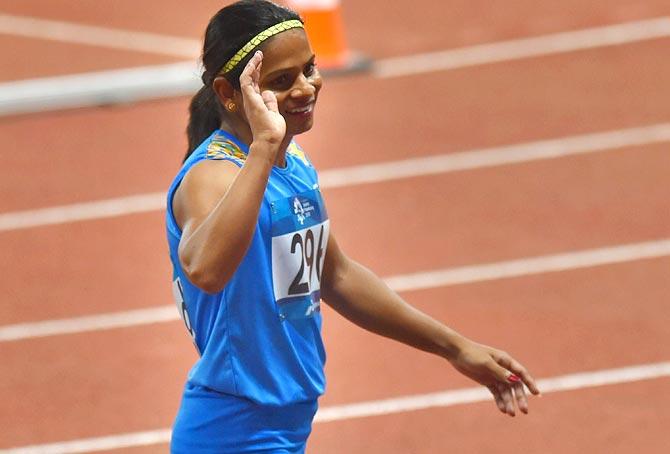 ATHLETICS:
Men's 20km Walk: Irfan Kolothum Thodi, Manish Singh Rawat (4:30 AM IST)
Women's 20km Walk: Soumya Baby, Khushbir Kaur (4:40 AM IST)
Women's Heptathlon: Swapna Barman, Purnima Hembram (7:30 AM IST)
Men's Triple Jump Final: Rakesh Babu Arayan Veettil, Arpinder Singh (4:45 PM IST)
Women's 200m Final: Dutee Chand (5:35 PM IST)
Men's 1500m Qualification: Manjit Singh, Jinson Johnson (6:00 PM IST)
Men's 4x400m Qulaification: India (6:45 PM IST)

BOXING:
Men's Light Fly(49kg) Quarterfinal: Amit vs Kim Jang Ryong (North Korea) (12:15 PM IST)
Men's Light Welter(64kg) Quarterfinal: Dheeraj vs Baatarsukh Chinzorig (Mongolia) (5:15 PM IST)
Men's Middle(75kg) Quarterfinal: Vikas Krishan vs Tnaglatihan Touheta Erbieke (China) (1:45 PM IST)
Women's Fly(51kg) Quarterfinal: Sarjubala Devi vs Chang Yuan (China) (2:15 PM IST)


BRIDGE: (8:00 AM IST onwards)

CANOE-KAYAKING:
Kayak Four (K4) 500m Men: India (7:20 AM IST)
Kayak Double (K2) 1000m Men:Ching Ching Sing Arambam/Naocha Singh Laitonjam (9:00 AM IST)

CYCLING:
Women's Omnium (Scratch Race): Manorama Devi (7:30 AM IST)
Men's Sprint Qualification: Esow, Ranjit Singh (7:50 AM IST)
Men's 4000m Individual Pursuit: Manjeet Singh (8:35 AM IST)

HANDBALL:
Men's Main Round Group 3: India vs Indonesia (12:30 PM IST)

HOCKEY:
Women's Semifinal: India vs China (6:30 PM IST)

JUDO: (Starting at 7:30 AM IST)

KURASH: (Starting 12:30 PM IST)
Women's 63kg: Binisha Biju Nayakattu
Men's 81kg: Manish Tokas, Kunal

SQUASH:
Women's Team Pool B: India vs China (11:00 AM IST)

TABLE TENNIS:
Mixed Doubles: Anthony Amalraj/Madhurika Patkar, Achanta Sharath Kamal/Manika Batra (8:30 AM IST onwards)

VOLLEYBALL:
Women's: India vs Hong Kong (3:00 AM IST).
© Copyright 2021 PTI. All rights reserved. Republication or redistribution of PTI content, including by framing or similar means, is expressly prohibited without the prior written consent.