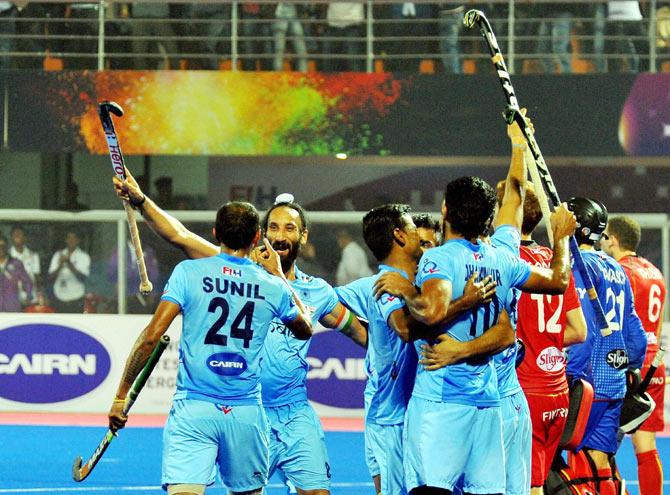 India's captain Sardar Singh celebrates with teammates after scoring during the Champions Trophy quarter-final against Belgium. Photograph: PTI
A cracker of a contest is on the cards when a confident India takes on a resurgent Pakistan in the semi-finals of the Hero Champions Trophy hockey tournament, in Bhubaneswar, on Saturday.
The traditional rivals are desperate to upstage each other in what promises to be a battle of attrition.
For India, it is an opportunity to avenge the defeat suffered in the bronze medal match in the last edition of the elite eight-nation tournament at Melbourne in 2012. And going by current form and record, the home side definitely enjoys the upper-hand.
They will take heart from their victory over Pakistan in the final of the Incheon Asian Games, which also gave Sardar Singh and Co a direct entry to the 2016 Rio Olympics.
In the Asian Games final, the Indians had to dig deep to eke out victory via the penalty shoot-out.
Come Saturday, though, the team can't afford to leave it so late.
India and Pakistan have a long history of hockey rivalry. The two nations have a record of facing each other in the first six Asian Games' final. They played seven finals against each other, out of which Pakistan won six and India just one!
Both nations played each other from 1956 to 1964 in three successive Olympic finals, and India won gold twice while Pakistan once.
But records are a thing of the past and when the teams take the ground on Saturday they will have only one goal in mind: a place in the final of the Champions Trophy.
India looked a better team than Pakistan in the tournament so far. They produced an inspired performance and came back from two goals down to stun world No 4 Belgium 4-2 in Thursday's quarter-finals.
They also showed tremendous fighting spirit to upstage two higher-ranked teams -- the Netherlands and Belgium -- in their last two matches, especially after their dismal outing in the opening two encounters.
After a jittery start, the Indians managed to plug holes in all aspects of the game on Thursday and, buoyed by a packed Kalinga Stadium crowd, registered one of the finest come-from-behind victories in recent times.
The Indians will have to keep their emotions in check and play sensible hockey, the way they played in the last two matches, to come out winners against Pakistan.
India's High Performance Director, Roelant Oltmans, expects a tough semi-final.
"I didn't expect Pakistan to beat Holland. They were very impressive. They fought for every square centimetre of the pitch," Oltmans said.
"We have played them so many times, so the players are experienced and know how to handle their emotions."
Pakistan, on the other hand, have nothing to lose. After three consecutive defeats in the pool stages, they bounced back in style to surprise the Netherlands 4-2 in the quarter-finals.
Pakistan coach Shahnaz Sheikh also made this point clear when he said it would be the Indians who will feel the pressure.
"The pressure should be on India because they will play before the home crowd. Our target is fulfilled. We wanted to reach semi-finals and managed to do that," Sheikh said after his team's practice session on Friday.
Unlike India, Pakistan haven't played at the international level frequently in the last couple of years and the coach feels it might act as a drawback for them when it comes to fitness.
"India's fitness has improved by leaps and bounds in the last 1-2 years. But we haven't played as a team together for quite some time, except for the Asian Games," Sheikh said.
"But having said that we hope to repeat our performance against the Netherlands in tomorrow's game."
Meanwhile in Saturday's first semi-final, World champions and title holders Australia take on Olympic champions Germany.