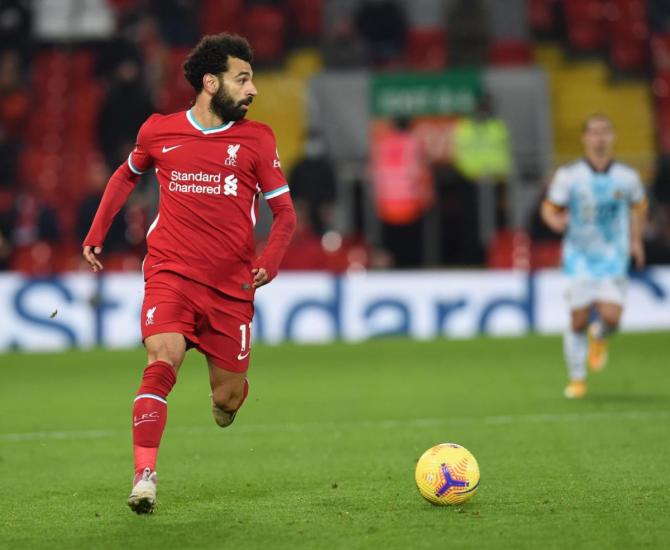 Liverpool striker Mohamed Salah has become the club's all-time highest and fastest goalscorer of the Champions League.
The Egyptian achieved the record in the 1st minute of the match against Midtjylland, scoring his 22nd in the tournament for the Reds, on Wednesday night.
With the strike, Salah went past the record of former Liverpool skipper Steven Gerrard who had scored 21 goals for the club in the Champions League.
Considered a Liverpool legend, Gerrard had famously led the club to Champions League triumph, with a three-goal comeback over AC Milan in 2005.
Salah's goal, which came just 55 seconds into the match, also ended up being Liverpool's fastest in the history of the Champions League.
The match against Liverpool and Midtjylland ended a 1-1 draw on Wednesday. For Midtjylland, Alexander Scholz converted a penalty in the 62nd minute.
The Reds topped Group D with 13 points from six matches, while Atalanta ended at the second spot with 11 points.
Liverpool are currently at the second spot in the Premier League 2020-21 standings and the side will next take on Fulham on Sunday.
Conte complains about referees and argues with Capello after exit
Inter Milan coach Antonio Conte was in a predictably irritable mood after his side's Champions League group-stage exit on Wednesday as he complained about referees and argued with former coach Fabio Capello, now a television pundit.
"Throughout the Champions League, we have been unlucky with referees and VAR," Conte said after a 0-0 draw at home to Shakhtar Donetsk meant his side finished bottom of Group B.
"Now that we are out, I feel I have to say this. It seems to me that Inter have not been respected, if you go back and look at the situations that have not been reviewed or evaluated."
Inter also drew 0-0 away to Shakhtar in the group but in August had beaten them 5-0 in last season's Europa semi-finals -- something Conte was not willing to discuss.
"In fact, they approached that match in a different way. Think before you ask the questions," he told his interviewer.
Conte said he had "no response" to a suggestion from former AC Milan, Juventus, Real Madrid and England coach Capello that Inter lacked determination.
He also gave short shrift to Capello's suggestion that Inter did not have a backup plan.
"Yes, we do have a Plan B but I am not going to talk about it in public because then our opponents will know about it and it will become useless," he said.
Aguero will not start against Man United: Guardiola
Manchester City manager Pep Guardiola has confirmed that striker Sergio Aguero would not be starting in this playing XI in this weekend's clash against Manchester United in the Premier League.
Guardiola's remark came as City defeated Marseille 3-0 in the Champions League on Wednesday (local time). Aguero made his return from injury in this match as a substitute in the 67th minute.
10 minutes later, he also got among the goal-scoring charts to make a stunning return. In the match against Marseille, Ferran Torres also scored a goal, while Alvaro Gonzalez ended up registering an own goal for Marseille.
"His instinct to score will always be there. He had three or four training sessions, his reaction was good. He played 25 minutes and scored a goal but it's step-by-step. The most important thing is his reaction tomorrow," Goal.com quoted Guardiola as saying.
The Argentine striker had missed the beginning of the season after having knee surgery in the summer and then suffered a further setback with a hamstring injury after his comeback.
When asked whether Aguero will be starting the match against Manchester United at Old Trafford, Guardiola replied: "No".
Aguero has scored 41 goals in the Champions League and as a result, he is now level with Paris Saint-Germain's Neymar as the second-top South American goalscorer in the competition behind Barcelona's Lionel Messi (118).
Manchester City and Manchester United will lock horns in the Premier League 2020-21 season on Saturday.
Champions League: Basaksehir coach Buruk condemns racist words from official
Istanbul Basaksehir coach Okan Buruk has urged for ending all sorts of racism after the incident against his assistant manager Pierre Webo during the first part of their Champions League match against Paris Saint-Germain (PSG).
PSG and Basakeshir were slated to lock horns on Tuesday, but the match was postponed to the next day as the Turkish side had walked off the pitch in the first half, alleging that the club's assistant coach had been racially abused.
Both teams left the pitch after the Turkish side accused a match official of racism.
Basakeshir alleged that the club's assistant coach was racially abused by the fourth match official. Both PSG and Basaksehir walked off the pitch and as a result, the match was postponed.
The incident was sparked when Basaksehir assistant coach Pierre Webo was shown a red card for protesting against a refereeing decision and the Turkish side alleged that Romanian fourth official Sebastian Coltescu used a racist term towards Cameroonian Webo.
"He told him something that was unacceptable," Buruk told a news conference after his team lost 5-1 to PSG in their final Group H game, which restarted on Wednesday after the players and onfield referees took a knee before the kickoff.
"The main referee (Ovidiu Hategan) should have dealt with the situation but he didn't and we had to show that we stood with Webo," said Buruk.
"Our players, notably Demba Ba, but also (PSG players) all united and said that if that referee was to continue the game we would not play and we walked back to the dressing-room.
"The decision was made by the players. Some wanted to go back to the pitch but we stuck together as a team and it was eventually a team decision (not to return)."
Webo was also sent off for his reaction to alleged racial abuse on Tuesday from the fourth official Sebastian Coltescu but UEFA reversed the decision to send Webo off, on Wednesday.
On Wednesday, the match resumed after the 14th minute, and PSG walked away with a 5-1 win over the visitors. For PSG, Neymar registered a hat-trick while Kylian Mbappe scored a brace. (ANI)
Buruk said they were helped by UEFA's decision to suspend the game and restart it on Wednesday.
"They did something good here, they helped us and it was something good," Buruk said.
"We showed the entire world that we are united."
Buruk added that it was Coltescu who should have felt bad after the incident.
"Webo was really, really sad. We supported him, but it was not him who must have felt bad. The culprit is the person who said these words. He's the one who must be feeling bad. We showed that we were all together with Webo. We must stop this, live together. Demba's words were sacred too, very important," Goal.com quoted Buruk as saying.
"We showed that we were all together. In my country there are a lot of different ethnicities and we have to be able to live together in a community."