'We are going to play with everything until the end and we want to make history'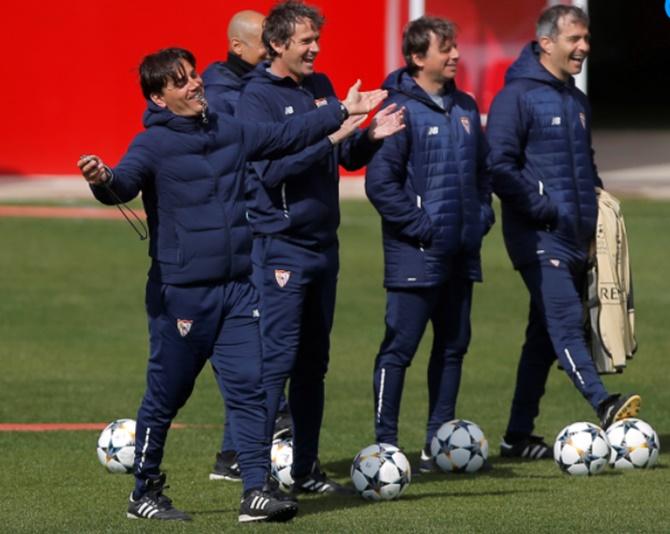 IMAGE: Sevilla coach Vincenzo Montella during training. Photograph: Jon Nazca/Reuters
Sevilla will attempt to draw Bayern Munich out of their comfort zone and take the game to the Germans, Sevilla coach Vincenzo Montella said ahead of Tuesday's Champions League quarter-final first leg in Spain.
Sevilla have surprisingly reached the European Cup quarter-finals for the first time since 1958 but while they are clearly the underdogs against the five-times champions, they are undefeated at home against German clubs in 11 matches.
"Bayern are accustomed to scoring a lot of goals, to having the ball. We have to do the same so we make them do things they're not used to," Montella told reporters on Monday.
Bayern have scored 21 goals in eight games in the competition this season, eight against Besiktas in the round of 16.
The Bavarians, chasing a treble of titles, also fired six goals past Borussia Dortmund at the weekend in an ominous warning to Sevilla.
Montella will be without key midfielder Ever Banega, as the Argentine is suspended.
"He won't play and he's a player with very clear qualities. It's something we can't change and I'm convinced that the player who replaces him will do well," Montella said.
"When you are in this kind of competition, opponents demand a lot of your mental and physical energy," the Italian added. "We paid for it in La Liga but I like this situation."
The Andalusians squandered a two-goal lead late on to draw 2-2 against Barcelona on Saturday and Montella conceded playing in three competitions simultaneously was not something Sevilla were used to.
They have had a disappointing domestic campaign and are sixth in the La Liga standings but after beating Manchester United in the last 16 of Europe's premier club competition they have achieved something memorable.
"We've already made history," Montella said. "We are going to play with everything until the end and we want to make history with the club and with our fans, who as always will help us."
Key absences unlikely to ruffle Juventus coach Allegri
Juventus coach Massimiliano Allegri will have to reshuffle his side again for Real Madrid's visit on Tuesday, yet it is all water off a duck's back for one of Europe's master tacticians
In just under four seasons at Juve, Allegri, who will be unable to call on suspended defender Medhi Benatia and midfielder Miralem Pjanic, has shown himself to have an uncanny knack of switching formations between and often during matches.
Juventus, who host Real in the first leg of their Champions League quarter-final, have won three successive Italian league and cup doubles and reached two Champions League finals under Allegri's pragmatic leadership.
During that period, Allegri has repeatedly and successfully managed to rebuild his side after the departures of key
players such as Andrea Pirlo, Arturo Vidal, Carlos Tevez, Paul Pogba and Leonardo Bonucci.
Bonucci's departure at the end of last season meant the break-up of the formidable BBC defence, which also featured Giorgio Chiellini and Andrea Barzagli.
But Morocco defender Benatia has stepped ably into the gap and the defence remains as miserly as ever, conceding only one
goal in Serie A since the start of the year.
In the last few months, Allegri has fielded a 3-5-2 formation, a 4-2-3-1, a 4-3-3 and a 4-1-4-1, all proving equally effective.
Rather than emphasising fight and commitment, the 50-year-old likes to talk about the importance of "interpreting the moment" and "administering the match".
He says his team enjoys defending as much as trying to score goals and said last year that good defending is "as beautiful as a great attacking move".
One of his most recent masterstrokes was in the second leg of the last-16 tie against Tottenham Hotspur when Allegri altered the course of the game with two changes in a minute.
Juve were losing 1-0, and trailing 3-2 on aggregate, when Allegri replaced defensive midfielder Blaise Matuidi with left back Kwadwo Asamoah, then one minute later brought on right back Stephan Lichtensteiner for central defender Benatia.
The complexion of the game changed immediately, Juventus scored two quick goals and, despite being on the back foot for most of the two-leg tie, went through to the last eight 4-3 on aggregate.
Allegri was similarly successful on Saturday when, with his side drawing 1-1 against AC Milan, he introduced winger Juan Cuadrado on the hour against AC Milan.
Barely 15 minutes later, the Colombian, returning after three-month injury-enforced absence, scored to set his side on the way to a 3-1 win, heading in at the far post from Sami Khedira's cross.
Khedira, who had been greeted with a few jeers when he reappeared for the second half of the match, scored the third and, typically, Allegri praised the German for his tactical nous.
"He's an international class player and he is intelligent," he said. "I like to have him on the pitch as knows when to raise the drop the rhythm, and he knows how to read the moment of the match."