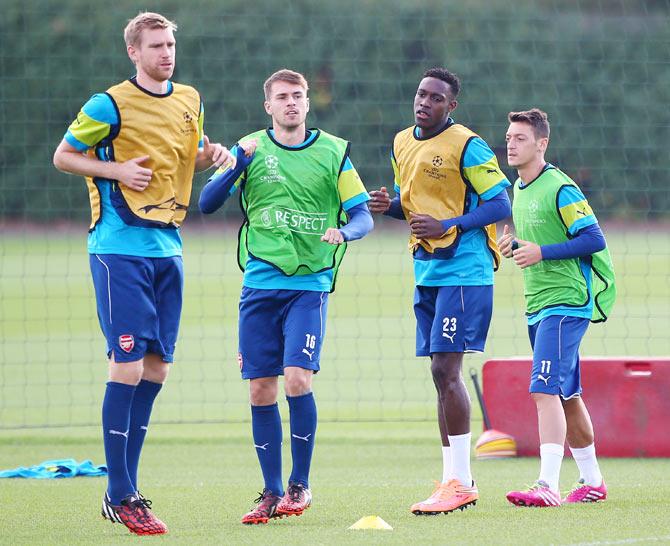 (Left-Right) Arsenal's Per Mertesacker, Aaron Ramsey, Danny Welbeck and Mesut Ozil warm up during a training session, on Monday, ahead of their Champions League match against Borussia Dortmund in St Albans, England. Photograph: Charlie Crowhurst/Getty Images
Arsenal coach Arsene Wenger will be without right back Mathieu Debuchy for a "longer period" of time and is struggling with defensive options for their Champions League group opener against Dortmund.
Debuchy suffered ankle ligament damage in the 2-2 draw with Manchester City on Saturday and is undergoing more tests. British media reported he could be out for three months.
Foreward Yaya Sanogo also stayed in London because of a hamstring problem.
The French coach will also be without injured left back Nacho Monreal while Calum Chambers, who missed training earlier on Monday, is being treated for tonsillitis and has a "50-50 chance" of playing.
"In defence we of course have the Mathieu Debuchy injury, and that puts us in a position where we do not want more (injuries)," said Wenger.
"Monreal didn't travel and Chambers is 50-50. Debuchy is out for a longer period. We don't know how long. Sanogo stayed at home with a little hamstring problem."
'I love to see Dortmund playing dynamic and attractive football'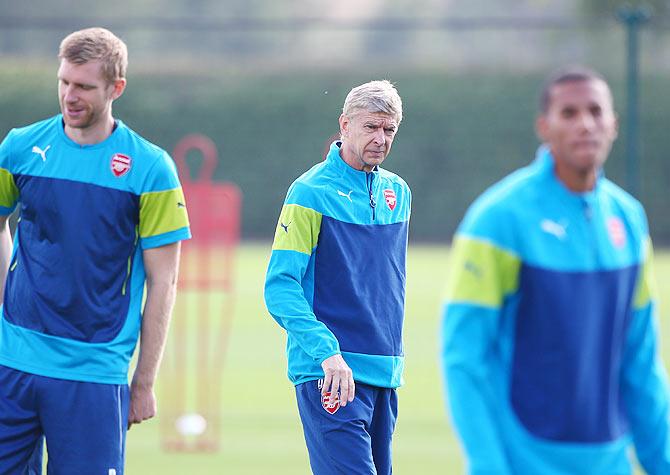 Arsene Wenger during a Arsenal training Session ahead of their Champions League tie against Borussia Dortmund. Photograph: Charlie Crowhurst/Getty Images
Wenger may now be forced to start 19-year-old right back Hector Bellerin.
"We have as well Bellerin, who I think is now ready to play," he said.
Dortmund and Arsenal are no strangers, having met last season as well as in 2011 in the competition with upbeat Wenger heaping praise on his German counterpart Juergen Klopp.
"I have great respect for Mr Klopp. He rose up very quickly in his career and inspired Dortmund," said Wenger.
"What does he do better than me? Maybe a lot of things. But I love to see his squad playing dynamic and attractive football. I like it."
Dortmund beat Arsenal in London last season but lost at home to the English club 1-0.