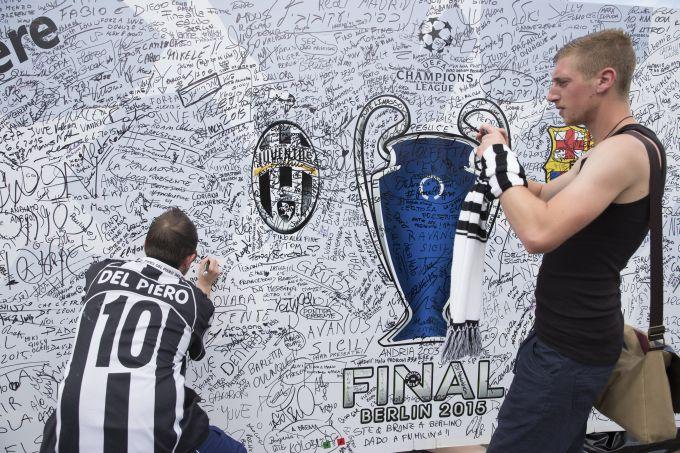 Juventus supporters sign a board in Berlin ahead of the Champions League final soccer match between Juventus and Barcelona. Photograph: Axel Schmidt/Reuters
The thousands of Barcelona and Juventus fans streaming into Berlin's Olympic Stadium for the Champions League final later on Saturday were confident the showpiece would knock the FIFA scandal off the front pages and out of people's minds.
The hordes in high spirits from Spain and Italy blanketed the German capital on Saturday, many easily identifiable in their team colours. They were nevertheless united in their hopes that the FIFA scandal would go away – at least for the day.
"This is the best part of football – the fans and the players. We're here because we love the game," said Pasquale D'Andrea, a 23-year-old student from Foggia, Italy wearing a black and white Juve jersey.
"This isn't about money. The people at the top of FIFA only care about the money. They should get lost."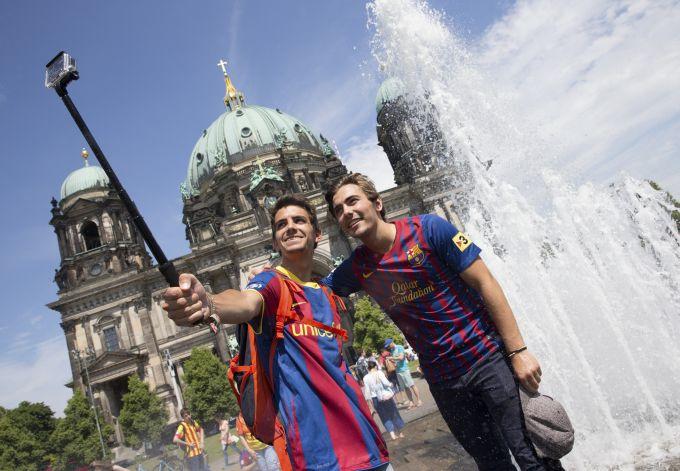 Barcelona fans pose for a selfie in front of the Dome Cathedral in Berlin. Photograph: Axel Schmidt/Reuters
World soccer's governing body was plunged into the worst crisis in the organisation's 111-year history on May 27 when Swiss police staged a dawn raid in Zurich and arrested several officials on corruption charges filed by U.S. prosecutors in New York.
Adrian Adell, a 25-year-old pharmacist proudly wearing Barcelona's blue and maroon colours in front of the stadium, said the Champions League final was the only thing that mattered on Saturday.
"FIFA is ruining football," he said. "It's a terrible thing when these people in power take advantage of the passions of the fans. But today the only thing that matters is the game."
Standing nearby in his Barca jersey was Ivan Tirade, a 37-year-old shopkeeper from Valencia getting in the mood for his fourth Champions League final.
"I don't care about the FIFA scandal today, maybe tomorrow," he said. "We're here to see a great match."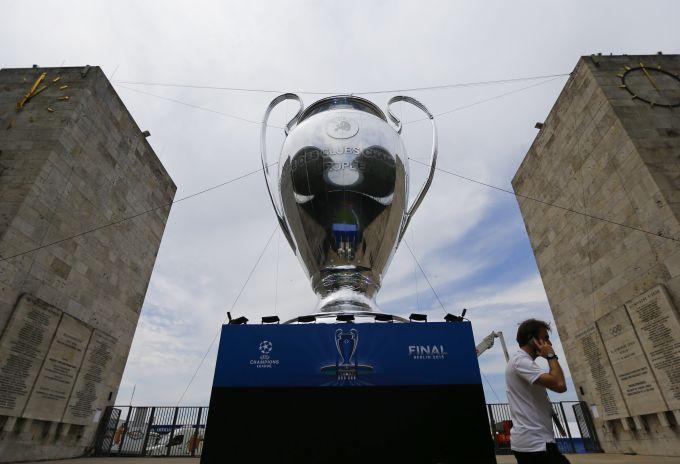 Mock up Champions League trophy outside Olympiastadion. Photograph: Pawel Kopczynski/Reuters
Francesca Lombardo, a 26-year-old office clerk from Glarus, Switzerland who said she's been a Juve fan "since I was born" thanks to Italian father, shared Tirade's view, saying she doesn't know or care much about the FIFA scandal.
"It's a big deal in Switzerland but I don't care. I only care about the game."
But Barca fan Omar Trevino, a 37-year-old manager at Airbus in Hamburg, defended outgoing FIFA president Sepp Blatter.
"He was actually really good at managing people. He had everything under control for a many years," he said. "I thought FIFA was well managed but we never knew what was behind it all."
Ralf Rodemayer, a technician from Zell am See in Austria, has been a Barca fan for 20 of his 26 years.
"It's time to celebrate soccer again and not moan about all that's wrong with FIFA," he said. "It's time to rally around the guys in the jerseys and not the jerks in their suits."