The Champions League quarter-final between Liverpool and Manchester City is one of the most anticipated games of the season pitting the Premier League's runaway leaders against the top scorers in Europe's elite competition.
Here are five key elements which will determine the outcome of Wednesday's first-leg at Anfield: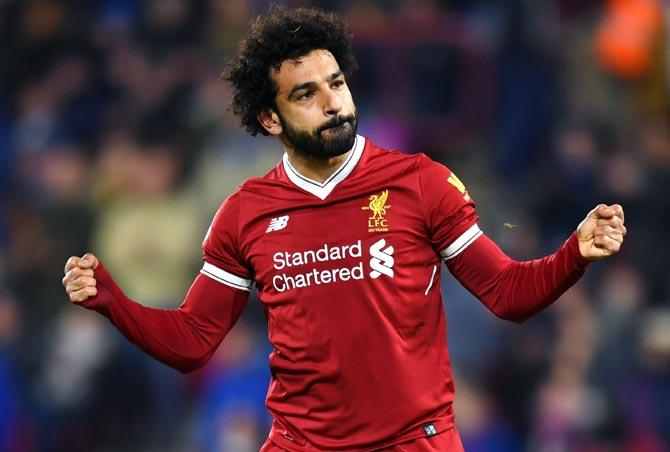 IMAGE: Liverpool forward Mohamed Salah is on his way to reaching the elite level. Photograph: Michael Regan/Getty Images
1. WILL LIVERPOOL'S DEFENCE COPE?
Juergen Klopp's side have conceded eight goals in their two Premier League meetings with City this season - a 5-0 defeat at the Etihad and a 4-3 win at Anfield. Put simply, unless Liverpool improve in that area they will not be reaching the semi-finals.
Club record signing Virgil van Dijk did not feature in either of those games however and Klopp will be hoping the 75 million pounds Dutch defender can ensure a tighter defensive display.
But, as they showed in their loss at Old Trafford to Manchester United last month, even with Van Dijk, Liverpool's central defence remains vulnerable and given the rapid and clever movement of City's frontline, they will need to deliver one of their best displays if they are to frustrate Pep Guardiola's attack.
2. CAN SALAH EXPLOIT CITY'S 'WEAKEST LINK'?
If Manchester City have a weak point it is at left-back where Guardiola has fielded several players this season following the knee ligament injury to first choice Benjamin Mendy in September.
Brazilian Danilo, converted midfielder Fabian Delph and Ukrainian youngster Oleksandr Zinchenko have all played in that role this season but Guardiola opted for French central defender Aymeric Laporte in that position for Saturday's 3-1 win at Everton.
That may have been a dress rehearsal for Wednesday's game where, whoever Guardiola chooses as the left-back will have the daunting task of marking Mohamed Salah, who has scored 37 goals in all competitions this season.
Laporte's normal role is at centre-half and while Guardiola prides himself on having versatile players who can play in several roles, it will be a huge test for the former Athletic Bilbao defender if he plays.
3. HOW WILL CITY COPE WITH LIVERPOOL'S PRESS?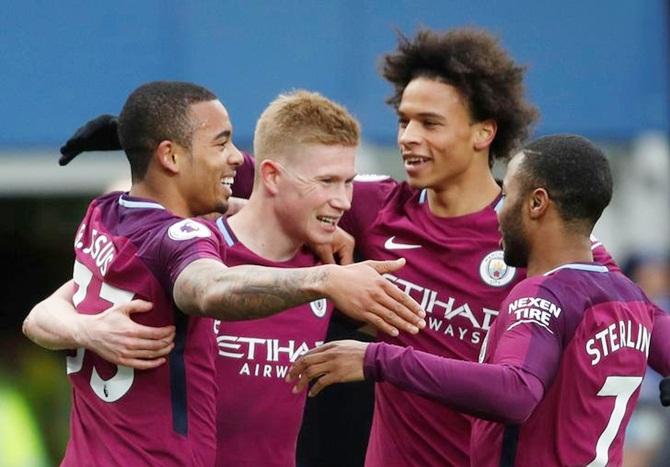 IMAGE: Gabriel Jesus with Kevin De Bruyne, Raheem Sterling and Leroy Sane. Photograph: Carl Recine/Reuters
Guardiola's side love to play the ball not just out of the back but from their goalkeeper Ederson, whose ability with his feet is unmatched. But in January's win at Anfield, Liverpool's forwards pressed the City defence - and their keeper - hard, forcing errors and knocking them off their rhythm.
With a high defence, the aim is to compress midfield and limit the space that City enjoy so much.
Klopp has suggested the approach will be the same on Wednesday.
"The way we attack the opponent, the way we defend high is unpleasant (for our opponents). If we do that well they will have some difficulty coping with it," he said.
It is an approach that requires high energy and stamina levels, as well as great discipline. Will it work again?
4. SANE v ALEXANDER-ARNOLD
There is no doubt that Liverpool's 19-year-old right back Trent Alexander-Arnold is a talented and promising player but he faces a huge challenge up against the speed and skill of City's German left-winger Leroy Sane.
Alexander-Arnold has had some tricky tests of late, struggling at Old Trafford against United's Marcus Rashford and having a torrid time on Saturday, in the first half at Crystal Palace, against Wilfried Saha.
If he is left exposed, one on one, against Sane, it could be a long, hard night for the Liverpool academy product and he will need help and support. In a game which could be tightly balanced, it will be fascinating to see if the full-back can rise to the occasion.
5. THE BATTLE FOR PLAYER OF THE YEAR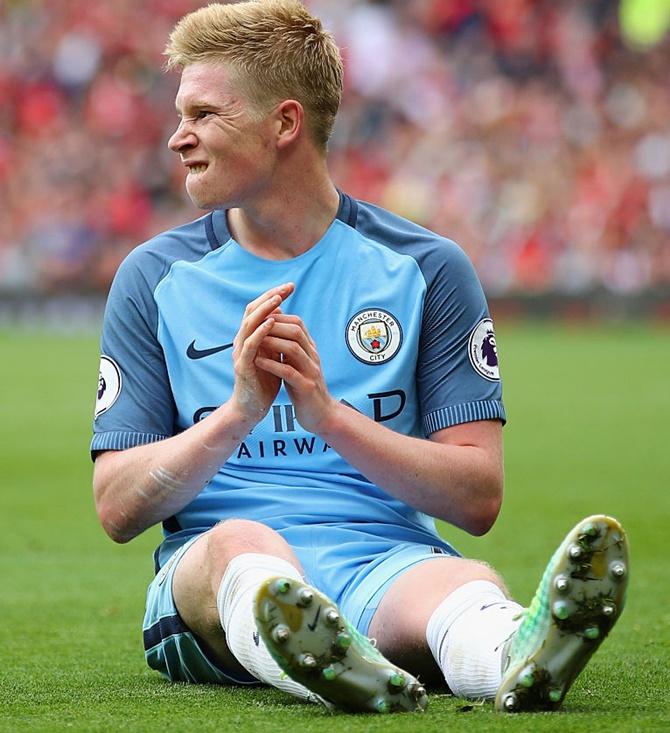 IMAGE: Kevin De Bruyne of Manchester City. Photograph: Clive Brunskill/Getty Images
For much of this season there has been little doubt over who would be named Player of the Year in England — City's Belgian midfielder Kevin De Bruyne has been so good with his precision passing, tireless running and quality finishes that there hardly seemed to be another contender worth considering.
Salah has long been the leading contender for signing of the season but some would argue that his 37 goals and overall contribution now make him a valid alternative vote to De Bruyne.
Both men would be worthy and justified winners but one factor now in the minds of those deciding the awards will surely be how much influence the pair of Chelsea 'rejects' have on these two games.