Real Madrid and Barcelona, the world's two richest clubs, have already played each other twice in five days in La Liga and the King's Cup, and now face off again over two legs for a place in the Champions League final.
Barca's 1-1 draw at Madrid's Bernabeu stadium on April 16 has set them on course to retain their league crown, but Real won the Cup final 1-0 after extra-time on April 20.
The Champions League semi-final first leg is at the Bernabeu on Wednesday and the return at the Nou Camp on May 3.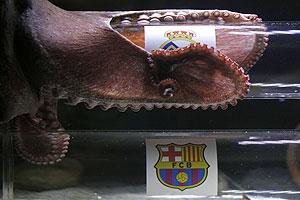 Following is a translation of a selection of Spanish words and phrases which help explain the intense rivalry between Real Madrid and Barcelona in the matches known as the 'clasicos'.
Cules and Merengues
Barcelona and their fans are known as 'Cules' which means 'arses' in Catalan.
At one of the club's first stadiums in Calle Industria, fans used to sit on the outer wall watching matches and all that passers-by could see when they looked up from the street was a row of backsides, which prompted the nickname.
Real Madrid are known as the Meringues because their distinctive all white kit (shirts, shorts and socks) resembles the famous pudding made from egg whites and sugar.
El Canguelo de Barcelona
In recent times, the Madrid-based sports press have accused Barcelona of falling victim to 'Canguelo', which literally means being scared stiff that Real Madrid would come up behind them to steal the league title.
In 2007, Fabio Capello's Madrid famously overhauled Frank Rijkaard's Barca side to snatch the title on the final day of the season, prompting accusations Barca had bottled it.
Although Madrid won the title again in 2008, they have mostly trailed Pep Guardiola's team since then, but always display an impressive "never-say-die" approach which regularly seems to unsettle their rivals.
After a draw with 10 men and a Cup final win the word has reared its head again in a super-confident Spanish capital, ahead of the Champions League semi-final first leg.
Real moved on from the Cup triumph to trounce third-placed Valencia 6-3 away on Saturday while Barca struggled past lowly Osasuna 2-0 at home, and the Madrid-based sports daily Marca's frontpage headline on Monday was: 'Eurocanguelo'.
La Manita
Barca's 5-0 hammering of Real at the Nou Camp in November had home players and fans waving their hands in the air with their fingers spread in celebration of the five goals -- la manita, or 'little hand'.
In the buildup to the recent league clash, an advert to promote a private health insurance company on Barcelona city buses caused a stir in Madrid as it showed five Barca players holding out their hands in a similar manner.
The club moved quickly to distance themselves from the advert and accusations that they were being disrespectful to their rivals.
After the 1-1 draw at the Bernabeu, Barca hold a 6-1 advantage in the head-to-head which would decide the league title if the two sides finished level on points.
Barca hold a eight-point advantage with five games left.
Villarato
Over the years, conspiracy theories have abounded about biased refereeing for either team.
Allegations of favouritism shown towards Real by referees during the dictatorship of Francisco Franco have given way recently to Barca being accused of having a helping hand.
The theory that Barca backed the re-election of Angel Maria Villar to the presidency of the Spanish soccer federation (RFEF), while Real supported a rival candidate, has given rise to the term 'Villarato' which is used every time Madrid fans think Barca have had some kind of favourable treatment.
Real boss Jose Mourinho has stoked the fires of the debate this season, complaining of favouritism towards Barca with red cards given against his own side, the timing of matches and the punishments handed out to himself and his team.
Any inference of favouritism has been denied by the authorities.
Mes que un club
Barcelona's slogan 'more than a club' helps explain why the 'Clasico' is more than just a football match.
Barca is seen as a symbol of Catalan nationalism and the region's continual struggle for recognition against the perceived centralising force of the Spanish government in Madrid, embodied by Real.
Barca fans wave the yellow and red-striped Catalan flags and hold up banners at the Nou Camp proclaiming in English that 'Catalonia is not Spain.' Many whistled through the national anthem at the Mestalla before the King's Cup final.
Madrid fans respond by waving Spain flags and singing 'Que Viva Espana' (Long Live Spain). Real defender Alvaro Arbeloa's 'Viva Espana!' tweet on his Twitter feed just after their Cup final triumph was widely debated by fans afterwards.